Two of the world's major listed drugmakers - AstraZeneca (AZN) and GSK (GSK) - both celebrated a strong start to 2023 and confirmed their forecasts for the rest of the year.
However, the two stocks are valued very differently by Wall Street. AstraZeneca shareholders are willing to pay 20 times forward earnings per share for 2023, while GSK's shareholders are willing to pay a mere 10 times earnings.
These investors may be missing a huge opportunity. Last year, GSK completed its biggest restructuring in 20 years. It spun off its consumer health division Haleon (HLN), which sells over-the-counter medicines.
It is using the $8.78 billion bounty from the split to make acquisitions to fill its pipeline.
GSK's vaccine division is the company's star. It has developed the first ever vaccine for the common infection respiratory syncytial virus (RSV), which it believes presents a similar sized market opportunity to its shingles vaccine, which generated over $1 billion in sales in the first quarter alone. This vaccine was the first to ever be approved against RSV just a few days ago.
The company also has a leadership position in infectious diseases, which account for two-thirds of the drugs in its pipeline target.
Meanwhile, AstraZeneca has benefited from fortuitous timing, investing in oncology just as the science made great leaps forward over the past decade. The company then built on its success, so it now has a pipeline with drugs based on every current promising approach to cancer.
So, we have two very successful pharma giants. How do we pick which one to invest in? The quick and easy way to do this is to ask Magnifi to run the comparison for us. It's as simple as asking Magnifi to "Compare AZN to GSK."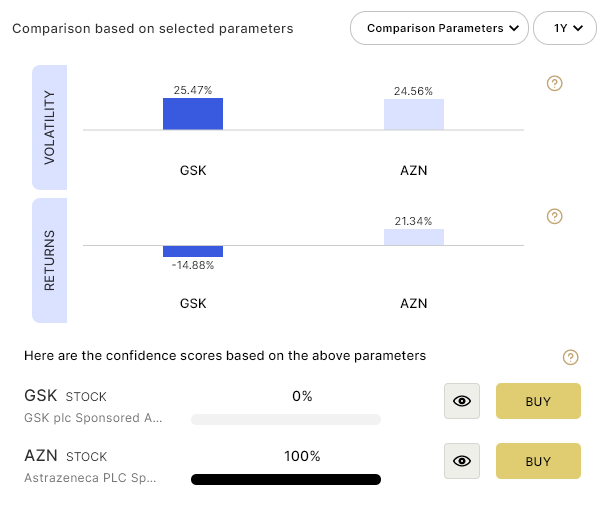 This is an example of a response using Magnifi. This image is not a recommendation or individual advice. Please see bottom disclaimer for additional information, including INO.com's relationship with Magnifi. Continue reading "The Best of the Best in Big Pharma" →