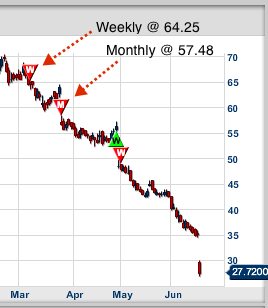 Research in Motion (NASDAQ:RIMM), the makers of the BlackBerry aka "CrackBerry," is down more than 20% in trading today after some pretty bad earnings reports.
Now if you're a trader that relies heavily on fundamentals, you may have been caught in this dive.
However, MarketClub members came out ahead of the game by simply following the "Trade Triangles" which had us out of RIMM in March at $64.25... a far cry from the high $20 range we're currently trading at.
P.S. If you're not a member, you might want to take advantage of our last chance deal of 2 free months on a year membership. Click here for more details!