"What trade are you thankful for this year?"
This month's contest is shortened to two weeks as we have our 'Holiday Give Away' starting mid-November.
This months contest is super simple.  Just write a brief note about a trade that you are thankful for this year. Did you get in Apple (NASDAQ_AAPL) @ $137, in Gold (FOREX_XAUUSDO) @ 950, or did you made a killing off of EURUSD (FOREX_EURUSD)?
Just leave a comment on this post telling us about a trade that you are thankful for this year. There is no wrong or right answer. The winner will be chosen randomly. ONE ENTRY PER PERSON OR YOU WILL BE REMOVED FROM THE CONTEST.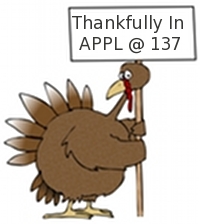 Prize Winner will receive...
MarketClub Winter Shirt
2 Complimentary Months of MarketClub
---
How To Enter:
Comment on this post telling us about a trade you are thankful for this year. You may add a little bit of commentary or analysis if you would like to... just keep it clean and remember that there is only one entry per person. All multiple entries will be deleted without notification.
---
Rules
1. This contest is open until 11:59 PM (Eastern) on November 15th, 2009.
2. No wrong answers. Any participation counts as an entry.
3. One entry per email address.
4. Winner will be picked by random integer software.
5. Monthly Prize Winner will be contacted on Monday, November 16th, 2009 via email.
–
Good luck!
_______
WINNER - Picked @ 10:15 AM (EST), 11/16/09
The winner of this shortened drawing is Avinash. Avinash was our 23rd comment where the response was "Way lucky to buy Gold around $980."
I will be contacting this winner via email to your address of where I can send you prize.
Thank you all for entering and please don't forget to sign-up for our big Holiday Giveaway, where we will be giving around over $5,000 in trading products throughout the month of December.
Best,
The MarketClub Team