MarketClub's model portfolio section showcases three portfolios using MarketClub's strategies that you can follow and see how well they are doing. We provide you with all the entry and exit points for each market in each portfolio so there is nothing to second guess.
World Cup Portfolio
The final results are in and once again the World Cup portfolio (WCP) knocked it out of the park with triple digit returns. This is the third time in 7 years that this portfolio has chalked up some of the best returns in the investment world. We have continually published the daily signals and the results for this portfolio since 2007, so this year's results are no fluke.
The big winner in 2014 was, of course, being short crude oil. This strategy produced spectacular results and was responsible for almost half of our profits for the entire portfolio. With gains of $38,130, representing a 76% return on total invested capital, this commodity was a standout, just trading one contract of crude oil. Next up was gold, which was responsible for producing a return of $7,793, equaling a 15.5% return on invested capital.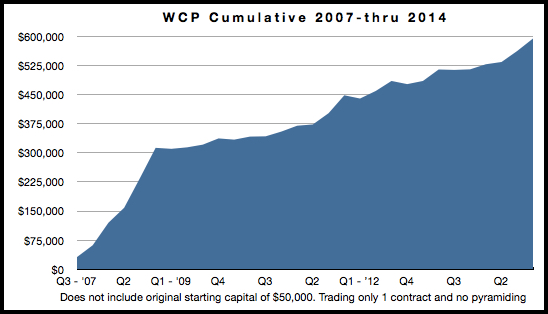 Total capital needed to trade the World Cup portfolio is $50,000. (Remember, we are not brokers nor do we manage money.)
Every single market showed a profit in 2014, however, not every single market showed a profit in every quarter. This is why it is so important to be diversified as it lowers your risk profile while raising you profit profile.
Here is the quarterly market breakdown per share: Continue reading "Triple Digit Returns In 2014 For The World Cup Portfolio" →