On January 12th, shares of Whirlpool Corp. (NYSE:WHR) crossed the $200/sh threshold for the first time ever. Now trading at $200.92/sh, the stock has risen by 44% in the last 4 months.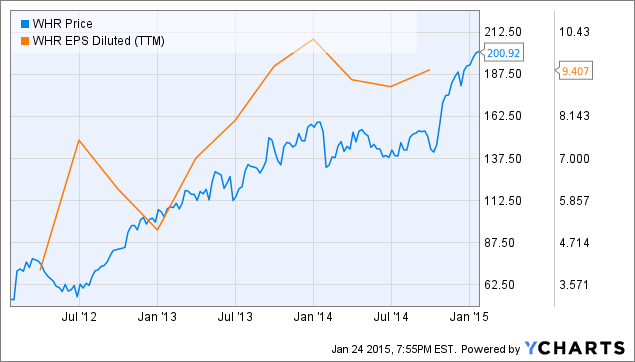 Chart courtesy of YCharts.com.
The rapid price rise is nothing new; Whirlpool's stock is in the midst of an extended run of robust performance. Over the last 3 years, WHR has increased almost four-fold, climbing by 277% since being quoted at $53.33/sh on January 23rd, 2012. During that same period, the company's earnings expanded by 137% to their current level of $9.41/sh.
Looking at these numbers alone, one might assume that the stock is due for a correction. Has its price climbed too quickly? Is the stock overvalued? I'd argue that WHR remains undervalued, and that investors can expect the stock to continue outperforming the market with ease. Continue reading "Will Whirlpool's Price Continue to Climb?" →