Our Stock of the Week was released this morning. Are you on the list?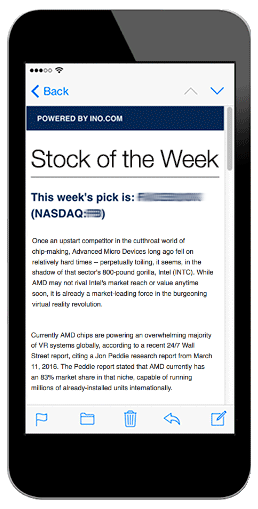 If you haven't subscribed to INO's Stock of the Week, you can get this week's pick right now and you'll receive a new pick each and every Tuesday before the opening bell.
An excerpt from today's Stock of the Week:
"Having a well-balanced portfolio is essential for success as an investor. Loading up on small cap stocks or lesser-known brands can add excitement to a portfolio but at the cost of adding more risk than you might want leading to dramatic declines when the market becomes volatile. Making sure you have a solid, large-cap performer in the mix can round out volatility while increasing overall diversity and value to your portfolio.

Right now the tech industry has some of the fast growing companies in the stock market. Even large-cap stocks in tech have the ability to outperform the broader indexes. This company has been consistently breaking new ground in the technology space and its name is synonymous with innovation making it best in breed..."
What to know what this stock is? We'll send our full analysis to you right now.
Our analyst, Daniel Cross, projects that this well-known, highly-liquid stock is fair valued at 16% above the current price.
We hope you'll like this complimentary service from INO.com.
Enjoy,
The INO.com Team
[email protected]