Today, Friday the 13th, I have three stocks for you to look at today. Each of these stocks gave major buy signals yesterday, signaling that they are headed higher according to the Trade Triangle technology.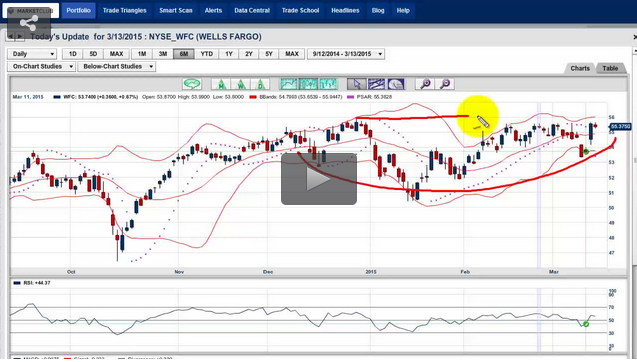 Wells Fargo & Company (NYSE:WFC) - Wells Fargo provides retail, commercial, and corporate banking services to individuals, businesses, and institutions. Its Community Banking segment offers checking, savings, market rate, individual retirement, and health savings accounts, as well as time deposits and remittances; and lines of credit, auto floor plan lines, equity lines and loans, equipment and transportation loans, education and residential mortgage loans, and debit and credit cards.
The Men's Wearhouse, Inc. (NYSE:MW) - The Men's Wearhouse, together with its subsidiaries, operates as a specialty apparel retailer in the United States and Canada. The company operates through two segments, Retail and Corporate Apparel.
Radian Group Inc. (NYSE:RDN) - Radian Group Inc., through its subsidiaries, provides mortgage and real estate products and services in the United States. It operates through two segments, Mortgage Insurance, and Mortgage and Real Estate Services (MRES).
I will also be looking at the major indices, gold, crude oil and the dollar. Time permitting, I will be looking for 52-week highs on a Friday trades for this weekend as well.
As always, we love to hear back from you and what you're thinking on the markets. Please leave your comments below today's post.
Every success with MarketClub,
Adam Hewison
President, INO.com
Co-Creator, MarketClub