Today I'll be looking at Amazon.com Inc. (NASDAQ:AMZN). At this point in time, the name Amazon is synonymous with online shopping, but Amazon does quite a bit more than just that. Amazon also runs a huge cloud infrastructure hosting service that has revenues in the billions of dollars. Amazon is constantly rolling out new services that are all designed to help sell more products. They are even coming out with a payment service for merchants that can be used on a smart phone.
Jeff Bezos, the genius behind Amazon, recently purchased the Washington Post. I'm not sure that this paper is going to make Jeff any money, but it is going to win him a lot of friends in Washington DC. Why would Bezos care about a newspaper? I don't think he cares about the newspaper itself, but rather the power the Washington Post has with politicians. What he cares about most is not having regulators come in and create problems by making more regulations than are necessary.
All that aside, here are three good reasons why I believe Amazon is going to have a very good fourth quarter.
1. Technically the stock looks good after pulling back from recent highs it made in July around the $360 area. The stock found support right around $280 and an important Fibonacci retracement level at $310.
2. Yesterday, Monday the 18th, the stock of Amazon flashed a weekly Trade Triangle. This action reaffirmed that the longer-term trend has resumed and should now be moving higher.
3. The stock is now in very strong hands with all the Trade Triangles green, indicating a strong upward trend.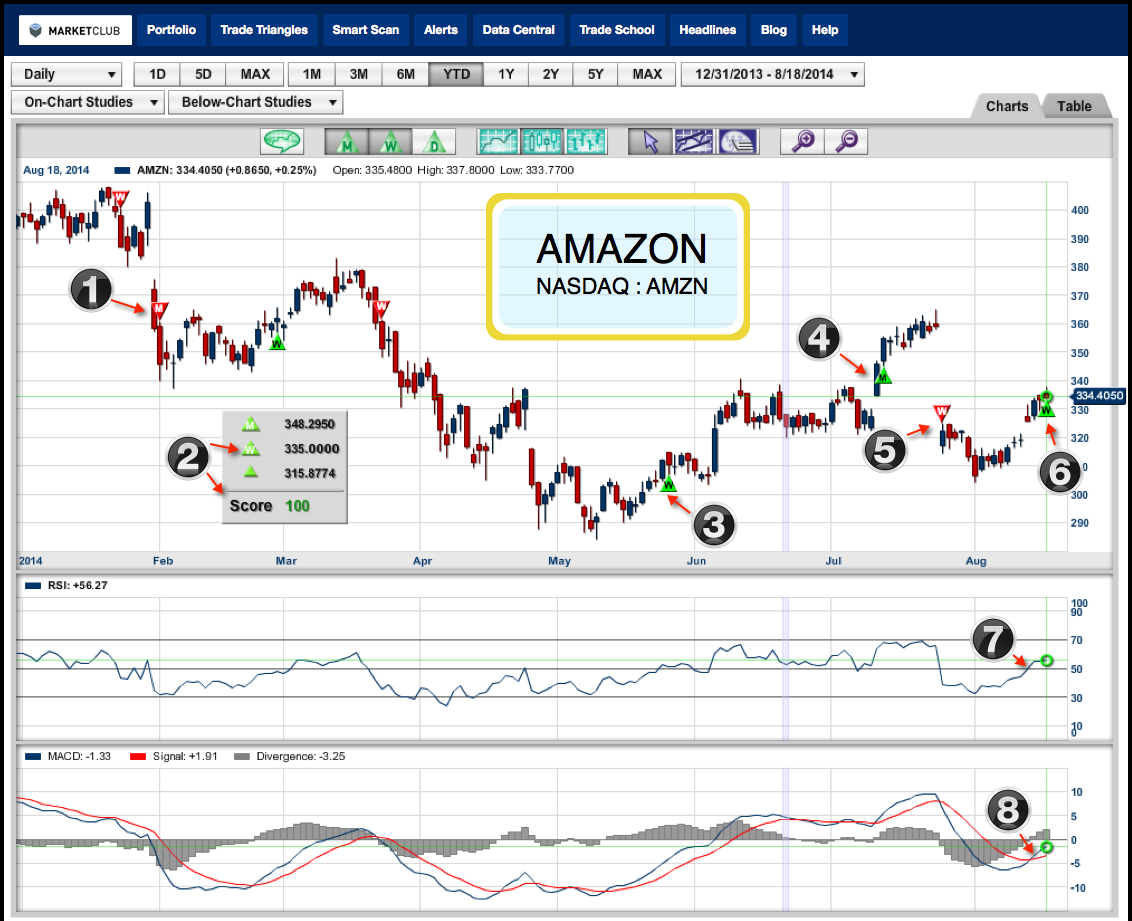 CHART LEGEND
1. Monthly red Trade Triangle indicates the upward trend had reversed.
2. All Trade Triangles are now green indicating a strong upward trend.
3. Green weekly Trade Triangle indicates to cover any short positions.
4. Monthly Trade Triangle turns green.
5. A red weekly Trade Triangle indicates exit long positions.
6. New weekly green Trade Triangle kicks in at $335.
7. The RSI indicator is trading above the 50 line indicating a strong trend.
8. The MACD indicator is showing the trend is now positive.
I still believe that Amazon.com Inc. (NASDAQ:AMZN) is a powerhouse to be reckoned with. Amazon's only real challenge will be regulations coming in to squash what is a shining success in entrepreneurial-ism and capitalism.
Today, I'm seeing some profit taking coming into the market and I believe that this presents an opportunity to pick up the stock of Amazon. Currently Amazon is trading just below our original Trade Triangle buy ($335) signal.
Every success with Amazon and MarketClub,
Adam Hewison
President, INO.com
Co-Creator, MarketClub