Every so often it's important to take a break from the market or business in general. So this past weekend, my wife and I took off for a long weekend in Maine where we have a summer house.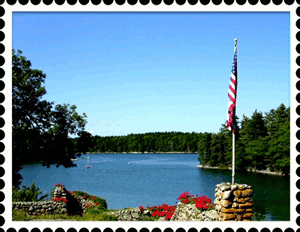 I always enjoy going back to Maine, as it reminds me of my roots in the north of England. I love the rocky coastline and the coastal air which always seems so fresh to me.
Another big attraction is my father-in-law who is one of the most interesting men I've ever met. This past Saturday we all went out as a family to have a nice dinner with my father-in-law, his wife Jean and my wife Sally. We had a wonderful dinner and great conversation fueled by nice wine. It was during this dinner that my father-in-law put these words in my mind which I want to share with you today.
We've all heard the expression lately that a company is too big to fail. But my father-in-law in his wisdom came up with the opposite of that and said, "companies are too small to succeed."

Now my father-in-law is not a business man, he is a retired Admiral and is as sharp as a tack.When I thought about his statement, I thought to myself that 70% to 80% of all the new jobs created in the United States are created by small businesses.
So I said to myself that it would be nice to see the Obama administration do something for the job engine of America (small business). But no, we spend billions saving industries that had gotten too big and arrogant. Becoming arrogant in business and life is a sure sign that the next move will be on the downside. I think the Obama administration could have gotten a bigger bang for their buck had they given tax incentives to small business as well as cutting the capital gains tax to zero.
Anyway, that's just a thought inspired by my father-in-law while I'm on vacation.I would love to know what you think about this and also what you do to relax when you get away from business and the markets. I will be back in the office on Wednesday and I'm looking forward to reading your comments as my internet connectivity here on this small unnamed island is extremely limited.
All the best,
Adam Hewison
President, INO.com
Co-creator, MarketClub