Consistent, successful trading requires a systematic approach that you are 100% confident in.  When talking to today's guest blogger and INO TV author Gary Wagner of "Forex Gold Forecast" a few days ago about recent trades, it amazed me how confident he was in his own technical analysis. I thought it would make a good article for the Trader's Blog so I had him write down a few thoughts on trading and how he has utilized his own system.
-----------------------------------------------------------------------------------------------------------------------------
Effective trading is a science, but it is also an art. Choosing the scientific models (technical indicators) you wish to combine to create your trading methodology requires a journey. A journey over time, through which by trial and error you will arrive at an approach that is successful. You need to assemble a toolbox of technical indicators like an artist assembles brushes. Just as each brush creates a different effect, each technical indicator reveals distinctive information about the market. Knowing which technical brushes to use and when to use them is essential. It will provide the trader with the tools needed to create an effective systematic approach.
Trading is also an art in that there is no single system or approach that defines a successful trading method. As in art, it is the result that defines whether a technique has merit. There are many roads that can lead to profitable trading. Finding the road that is right for you is your journey, mine took me to the study of Eastern technical indicators.
When I first started in 1985 as a commodity broker I was introduced and trained in fundamental and western technical market analysis.  In 1990 one of my most profitable clients sent me the book "The Japanese Chart of Charts" by Seiki Shimizu. This book changed my approach to technical trading, and greatly defined my current trading style.
In this book he revealed one of the earliest forms of technical analysis, Japanese candlestick charts and their patterns. The Japanese traders were the first to describe market sentiment mathematically. They were the first traders to explain supply and demand economics and market sentiment as a battle between the bulls (yang) and bears (yin).  The outcome of that battle is expressed mathematically as a picture: a single candlestick. Now some twenty years later it is accepted by the western trader as the prevalent charting style. Viewing price data in candlestick format is more visually complete and the more you understand about this technique, the more insight it will reveal to you. Once you have an understanding of candlestick patterns you can use them to identify and effectively pinpoint market reversals as well as trend continuations.
We produce a daily video newsletter for gold traders, the "Forex Gold Forecast tm". In it we combine Japanese candlestick patterns with western technical analysis to formulate our market commentary.  We are trend traders, so the first step is fundamental and technical trend analysis to establish market direction.  We apply Japanese candlestick patterns as our primary trigger for buy and sell signals. We use support and resistance analysis for stop loss levels. We use trailing stops to exit profitable trades.
On December 4th 2009, we issued a sell signal in gold. There were many factors visible that directed us to that conclusion. In the weekly Forex gold chart we got our first hint that a sell off was about to occur.  A very rare pattern called a "Three Gaps Pattern" was formed. The Japanese call this "San-ku Fumiage", it represents a price ceiling.
This pattern does not occur very often, and cannot typically occur in a daily Forex chart (there is no opening or closing bell to create a price gap between sessions).  In its purest form there is a price void or gap between each of the four candle bodies and wicks (total trading range from high to low). In this example there was a price void between the real bodies (open to close) of each candle. In my research, I have found that since the Japanese technician places such importance on the bodies of the candles that they will view this as a valid example of a "Three Gaps Pattern". When we first saw this pattern form we believed there was a high probability that the current trend was about to enter a correction or reversal. We than began to look for sell triggers in the daily charts.
Gold trades as a 24 hour market in Forex, with no opening or closing bells (except Fridays close to Sundays open). Comex gold on the other hand has a true open and close. Taking that into account we will look at the Comex gold chart for information. Many times this chart will yield different and revealing candlestick patterns unavailable in the Forex chart. Such was the case on December 4th, 2009. On that day both the Forex and Comex gold charts had sell signals, each issued from completely different candlestick patterns. Both signals were strong bearish reversal signals.
In Forex gold we saw a "Dark Cloud Cover" confirming candle had formed. A bearish confirmation candle is created on the following candle, and is needed to act on most two session candlestick reversal patterns. On a bearish reversal signal one should look for a black candle composed of a lower low, and a lower high.
In the Comex daily gold chart a "Southern Cross" had formed.  It was this pattern that we used to recommend the sell signal. The "Southern Cross" is a variation of a "Three River Evening Star", but with a long legged "Doji" in the center. A "Doji" is a single candle that has an equal open and closing price. We have found this to be a very strong signal, much rarer than the "Dark Cloud Cover", with a higher probability of success.  Below is a daily Forex gold chart, also showing the Comex candle pattern.  The combination of signals in the weekly chart and the daily charts were overwhelmingly bearish.  We felt it was a very solid call because of the multiple patterns we found.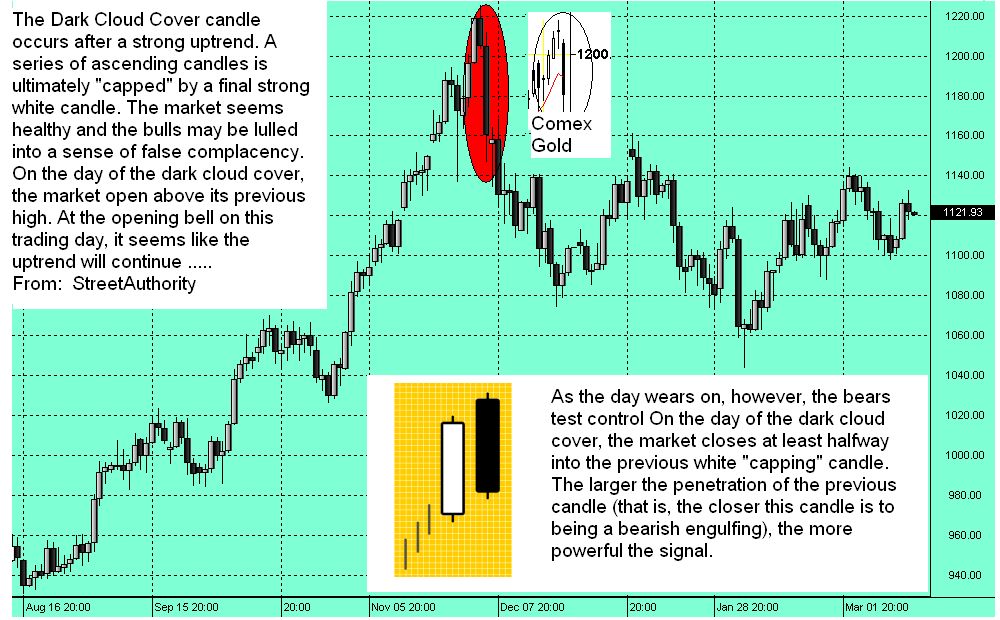 The work, time and effort needed to create your trading methodology are huge. You are investing much more than just your money. It requires so many hours of study and testing, and initially so many more failures than successes. Because of that, I believe it requires one last component: passion.  A Passion for the art and science of trading, this is critical in my opinion.  The potential monetary reward will give you the drive, but without a passion for this journey, you will be missing a most important ingredient, the creativity needed to find your unique style of trading.
Gary S. Wagner
-----------------------------------------------------------------------------------------------------------------------------
Gary S. Wagner has been a technical market analyst for twenty five years. He is the Co-author of "Trading Applications of Japanese Candlestick Charting".  A frequent writer for Technical Analysis of Stocks & Commodities magazine, he also Co-developed software applications for market forecasting. He produces a daily video newsletter "The Forex Gold Forecast" for WFGForex.com.