We've asked our friend Jim Robinson of profittrading.com to provide his expert analysis of charts to our readers. Each week he'll be be analyzing a different chart using the Trade Triangles and his experience.
Today he is going to take a look at the technical picture of QUALCOMM Incorporated (NASDAQ_QCOM).
I hope you are having a GREAT week !!!
This week let's take a look at QCOM.
QCOM looks to have made a Head and Shoulders top and is breaking out to the downside, which is bearish, and puts the odds with lower prices.
QCOM put in a green monthly MarketClub Trade Triangle on 09/13/12, which isn't shown on the chart and is still on a monthly green Trade Triangle.
QCOM is currently on a red weekly MarketClub Trade Triangle. If QCOM continues lower and puts in a green monthly MarketClub Trade Triangle that will be bearish, as the weekly and monthly Trade Triangles will be pointing to lower prices.
QCOM is definitely a Chart to Watch right now, as sharply lower prices could possibly be on the way.
On a side note, the Chart to Watch a few weeks ago showed the SPY was at a possible major resistance area. With the bearish stock market action the last few days the sellers look to be taking over. I would be very cautious on the long side of stocks right now.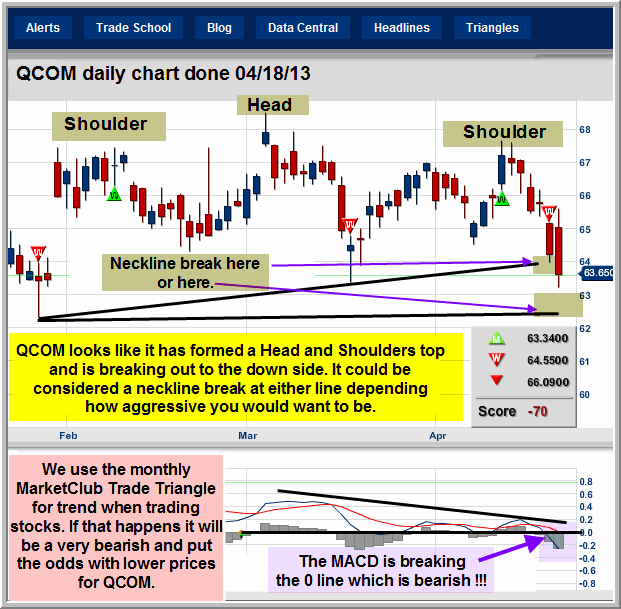 Thanks,
Jim Robinson
Profit Trading.com