Each Week Lo

ngleaftrading.com will be providing us a chart of the week as analyzed by a member of their team. We hope that you enjoy and learn from this new feature.
Weekly Gold Report (July 22nd through July 31st)
Ben Bernanke remained in the spotlight last week when his testimony reminded global markets that FED tapering would not begin until unemployment is below 6.5% and inflation is moving above 2%. That was the third or fourth reminder of the outcome of the FOMC meeting that took place a few weeks ago. So just in case anyone forgot the message the first two times, he was sure to get the news to them from another platform.
The reminder kept most commodities nicely underpinned and  provided decent intraday volatility to trade throughout the week.
Without FED speeches, interviews and testimonies to puppeteer the markets this week, we look forward to continued earnings to be reported along with important housing data for direction. Since trading above the May high print, the stock indexes are crawling to new highs and will likely need good earnings along with good housing numbers to continue the upward path. Any major disappointments should have traders second guessing any purchases in new high territory, but I doubt we will see a total washout this close to Bernanke's reassurance.
Gold Futures definitely have my attention to begin the week. Last week's consolidation in prices had me unsure whether or not the next directional move would be up or down. As usual, lighter volume Sunday night trading provided the answer I was looking for. Already this morning, the front month futures are up over $25 and headed for a near term resistance where the 50day Moving Average and the resistance trendline converge near $1335 an ounce (arrow #1). I plan to use this price as an indicator in the early part of the week. A failure to close above this level will tell me that the trend overall still remains down in the short term. If prices close above this level, I would expect a test around $1350, where most stop-orders likely are placed.  A rally past this point could leave the door open for a run to $1400. I am doubtful that we will see closes above the second resistance this week without any major global policy news, but stranger things have definitely happened in the world of Gold trading!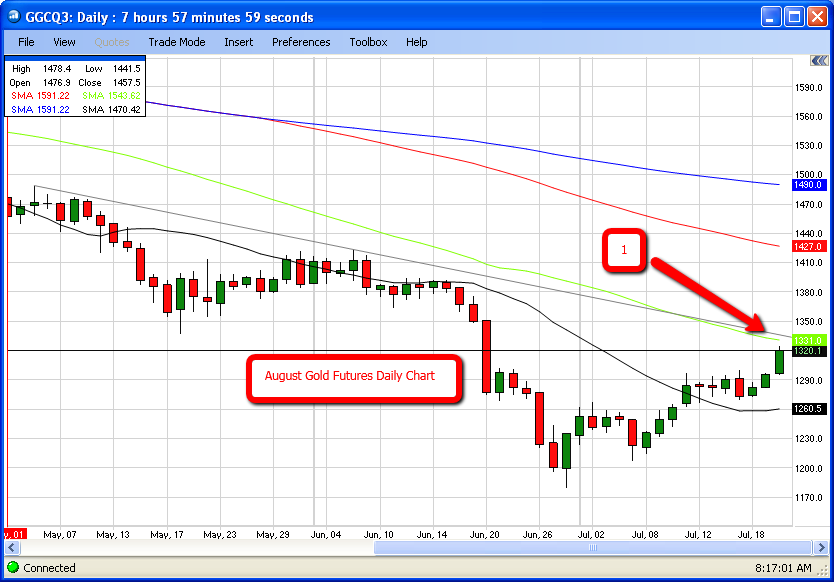 If you have any questions, please feel free to reach out to me directly. I can be reached via email at [email protected] or by phone at (888) 272-6926.
Thank you for your interest,
Brian Booth
Senior Market Strategist
[email protected]
888.272.6926
** There is a substantial risk of loss in trading futures and options. Past performance is not indicative of future results. The information and data contained in this article was obtained from sources considered reliable. Their accuracy or completeness is not guaranteed. Information provided in this article is not to be deemed as an offer or solicitation with respect to the sale or purchase of any securities or commodities. Any decision to purchase or sell as a result of the opinions expressed in this article will be the full responsibility of the person authorizing such transaction.