We've asked our friend Jim Robinson of profittrading.com to provide his expert analysis of charts to our readers. Each week he'll be analyzing a different chart using the Trade Triangles and his experience.
Today he is going to take a look at the technical picture of the Amarin Corporation (NASDAQ:AMRN).
I hope you are having a GREAT week !
This week let's take a look at the stock chart of AMRN.
This is a lower priced stock that looks to have great upside potential.
When trading stocks with the MarketClub system we use the monthly Trade Triangle to tell the stocks trend and we use the weekly Trade Triangle to time the trades.
AMRN could be forming a Cup with Handle base pattern.
If AMRN trades higher from here and breaks out above the handle that would mean the buyers are in control putting the odds with higher prices.
When AMRN made the bull swing out of the base it put in green weekly and monthly Marketclub Trade Triangles which means the main trend of AMRN is up right now, because the monthly has stayed on a green Triangle.
Since the bull swing high AMRN has made a counter trend correction and put in a red weekly MarketClub Trade Triangle.
If the monthly Trade Triangle stays green and AMRN trades higher from here putting in a weekly green Trade Triangle that would be a buy entry point with the MarketClub system.
The nice thing about the MarketClub system is that we let the market tell us what to do and don't have to use our opinion and we all know using opinions can often lead to trouble when trading.
If we want to trade AMRN we wait to see if it moves higher and if it does we go long on a weekly green Trade Triangle, again as long as the monthly Trade Triangle stays green as well.
If ARMN trades lower and never goes on a weekly green Trade Triangle then we simply don't go long this stock.
So AMRN is a great Stock to Watch right now, because a big move higher is definitely a possibility.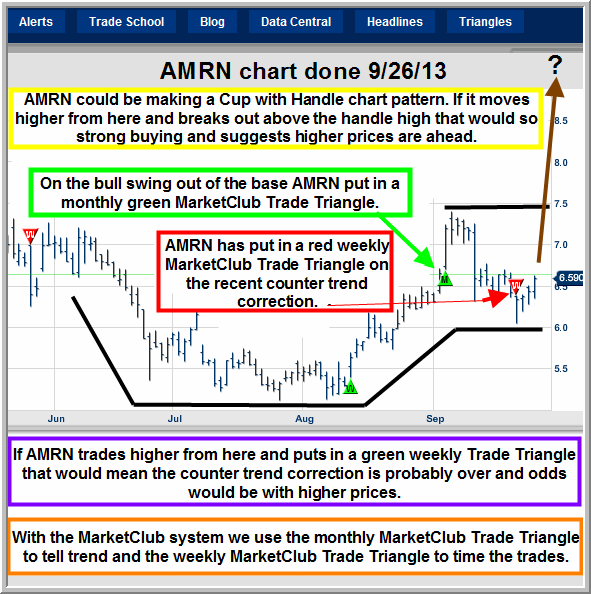 Thanks,
Jim Robinson
Profit Trading.com