One of the many benefits of MarketClub is having a great network of traders who use our service and share their ideas. This particular stock idea came from Harold, who has been a member of MarketClub for several years. Harold shared his stock idea with other members of our Member Blog yesterday.
This morning, I decided to take a look at Harold's stock idea, Freeport-McMoRan (NYSE:FCX). What immediately caught my attention was the rhythmic nature of this stock and how it almost performed like clockwork.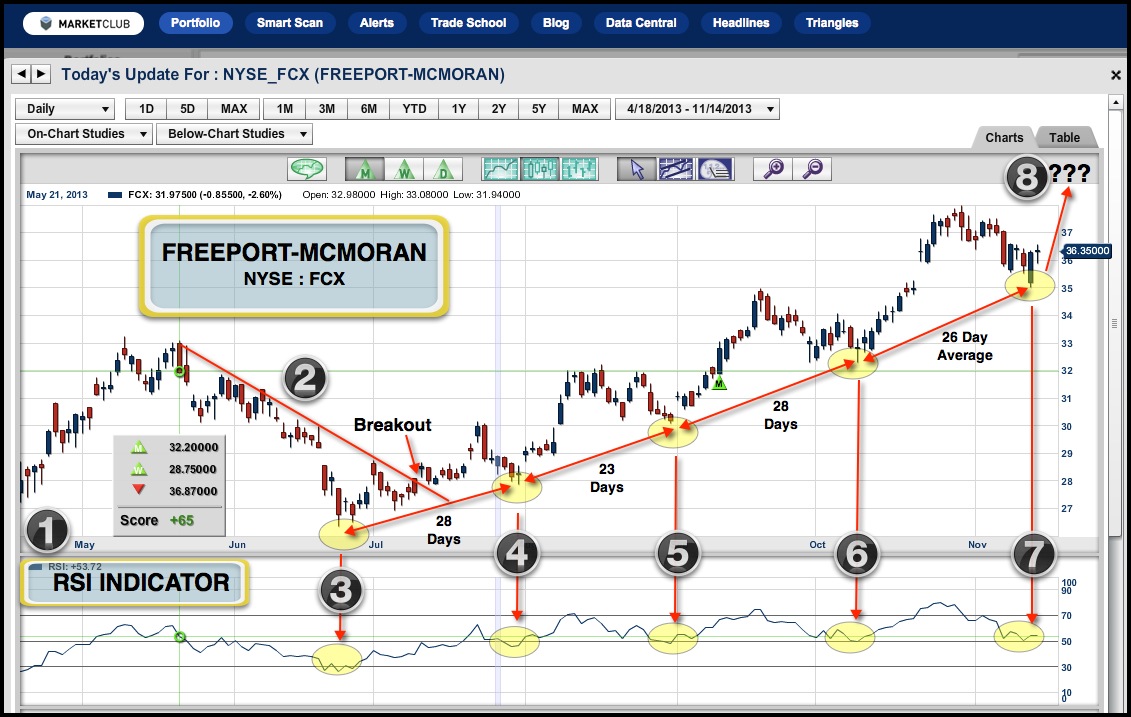 1. RSI indicator
2. Downtrend line and breakout
3. Major low established after trend line breakout
4. First cyclic low, 28 days after major low
5. Second cyclic low, 23 days after previous low
6. Third cyclic low, 28 days after previous low
7. Potential fourth cyclic low, 26 days after previous low
8. Potential upside target $40
It appears that once this stock broke over the trend line and established a low point at (3), it fell into a series of rhythmic lows which averaged 26 days between each low.
It is also interesting to note that each time FCX came back and made a low, it found support at the midpoint (50 line) of the RSI indicator. Traditionally in a bull market, the RSI indicator acts as support around the midpoint at the 50 line.
It would appear that we are currently at a cyclic low for FCX. Also, both the monthly and weekly Trade Triangles are green, indicating higher levels. This is not a particularly volatile stock, so the next swing point I see for FCX is perhaps a $5 move from the 26 day low period, which could take this stock to the $40 level. I would take that as the next target on the upside.
Keep in mind, any position in any market contains risk and should be protected with money management stops.
What do you think of the stock? Do you think the rhythm will continue? Do you think FCX is bullish or has it topped out? We'd love to hear your comments and feedback on FCX or any market that you are following, so feel free to leave a comment below.
Thank you Harold, for bringing FCX to my attention and to the attention of all MarketClub members.
Adam Hewison
President, INO.com
Co-Creator, MarketClub