Hello traders everywhere! Adam Hewison here, President of INO.com and Co-creator of MarketClub, with your mid-day market update for Friday, the 15th of November.
It has been quite a week! It's Friday and time to look for new 52-week highs in the markets. It was a strong week for the indices and several of the markets I am following, so after a quick recap of the major markets, I will show you how to find new 52-week highs and the rules you need to trade them.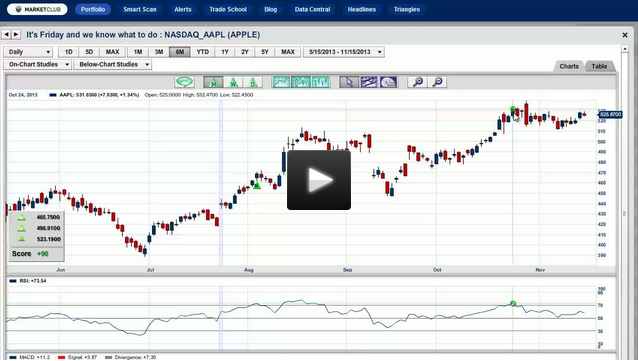 Here are the only three rules you need to trade "The 52-Week New Highs on Friday":
Rule #1: On a new 52-week high when the market closes at or close to its high on a Friday, buy and go home long for the weekend.
Rule #2: Exit long position on the opening the following Tuesday.
Rule #3: If the market opens lower on Monday, exit this position immediately.
"The 52-week New Highs on Friday Rules" work extremely well in futures and in Forex.
We appreciate your comments, questions and any feedback you may have on the stocks mentioned in today's post. Feel to interact with us below.
Thanks, and every success in the market.
Have a great weekend everyone,
Adam Hewison
President, INO.com
Co-Creator, MarketClub
Adam appears frequently on the following financial news channels as a guest expert. Click on any cable logo to watch Adam's latest appearance.