Hello traders everywhere! Adam Hewison here, President of INO.com and co-creator of MarketClub, with your video update for Friday, the 10th of January.
The market action yesterday was really a welcome to the real world, as more and more traders returned from their vacations. Yesterday saw many weekly Trade Triangles turn red, indicating that certain markets may be slowing down and moving into a transition period.
Both the S&P 500 and the NASDAQ displayed weekly red Trade Triangles, indicating for intermediate term traders that a sidelines position in both of these indices was warranted. This is not to say that the move to the upside is over, it is just an indication that for now the upward momentum has been blunted and the safest place to be is on the sidelines.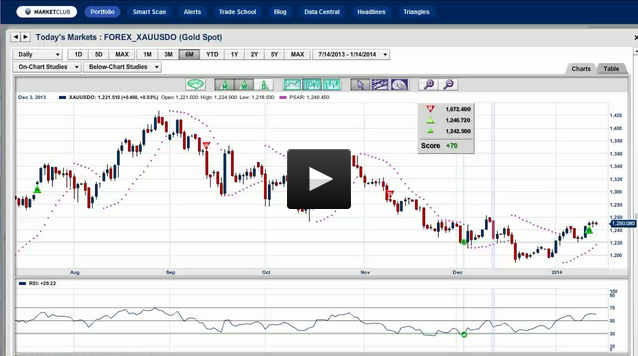 Gold Says, "Buy Me!"

In contrast to the indices moving lower, Gold (FOREX:XAUUSDO) prices flashed a green weekly Trade Triangle, indicating that it may be once again finding favor with investors. This is the first green weekly Trade Triangle seen in this market in some time. Gold can be traded using the weekly Trade Triangle for trend and the daily Trade Triangles for exit and entry points. As of right now, gold is a go to the upside.
If you missed Adam's 2014 Gold outlook, you can view it here.
Why You Should Not Ignore The Trade Triangles
The Trade Triangles can be used to both grow your money and, more importantly, protect your capital when a market hits the skids.
A good example of this would be the stock of SodaStream International Ltd (NASDAQ:SODA).
SodaStream International Ltd. engages in the development, manufacture, and sale of home beverage carbonation systems that enable consumers to transform ordinary tap water instantly into carbonated soft drinks and sparkling water.
This stock has been a volatile stock, historically moving up and down, but more recently on the downside. In fact, yesterday SodaStream crashed down over 25% in one day! I think you'll agree that's a massive loss if you had been long this stock trying to pick a bottom. If you had followed the Trade Triangles, you would've known on 10/31/13 when a monthly Trade Triangle turned red at $55, that you either had to be out of this stock or in a short position.
Here Is A Little Known Stock I Like
Apollo Investment Corporation (NASDAQ:AINV) is a business development company and operates as a closed-end management investment company. The company invests in middle market companies. It provides direct equity capital, mezzanine and senior secured loans, and subordinated debt and loans.
Yesterday, there was a weekly Trade Triangle entry signal on the stock at $8.66. I would get very bullish on this market with a close over the $9.05 level. Put this stock on your radar screen and let's see how it plays out.
Every success with MarketClub,
Adam Hewison
President, INO.com
Co-Creator, MarketClub
Adam appears frequently on the following financial news channels as a guest expert. Click on any cable logo to watch Adam's latest appearance.