Today, I'm going to be analyzing the stock of SolarWinds (NYSE:SWI).
SolarWinds, Inc. designs, develops, markets, sells, and supports enterprise-class information technology (IT) and infrastructure management software to IT professionals in various organizations worldwide.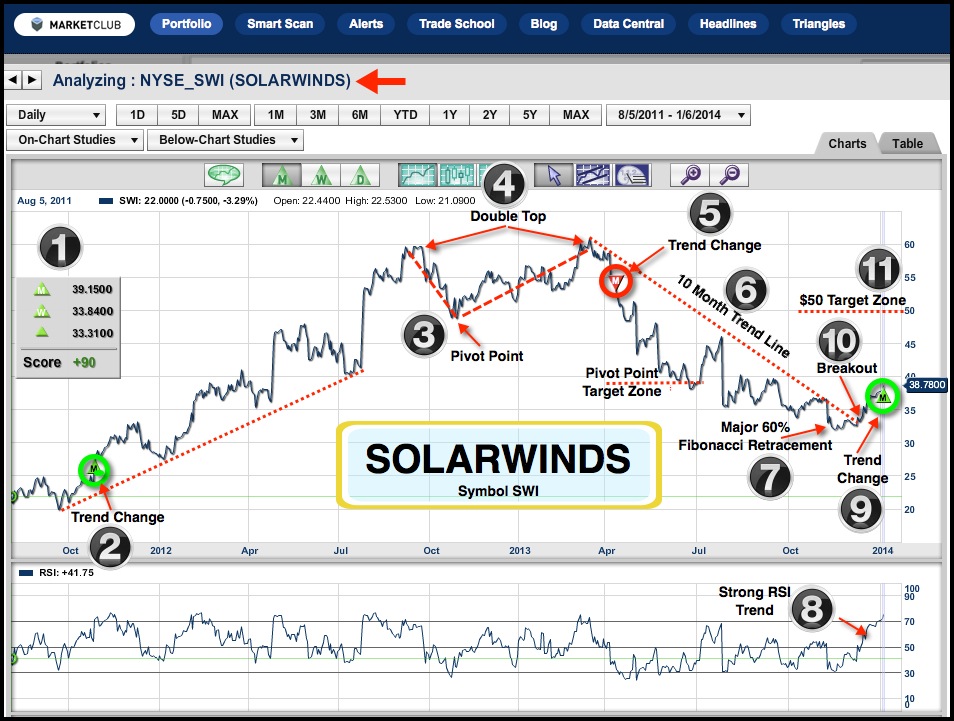 The most outstanding chart feature to me is the 10-month long term downtrend line, which has seen a breakout to the upside. This trend line touches three price points, making it a valid and important trend line. The RSI is trending over the midpoint 50 line, indicating a strong trend. Plus, all of the Trade Triangles are green and positive.
Another important key element to this chart is a Fibonacci correction from the low for this stock in July of 2010 at $12.50 (not shown on chart) to the highs that were seen just over the $60 level in March of 2013. The subsequent correction was picked up quickly by the monthly Trade Triangle, which kicked in at $52.06 on April 11, 2013. After almost 10 months of a bear trend, the monthly Trade Triangle reversed course and trend on January 6, 2014 at $39.15. I believe that Solarwinds has completed a major Fibonacci correction around 60% and I am expecting a move back up to around the $50 mark, which would be a nice return on capital.
CHART NUMBERS LEGEND
1. Trade Triangles all positive
2. Trend Change at $26.43 on 10/27/11
3. Pivot point
4. Double top
5. Trend change at $52.06 on 4/11/13
6. Classic trend line touching 3 points.
7. Major Fibonacci retracement
8. RSI trending over the 50 line.
9. Trend change at $39.15 on 1/06/14
10. Breakout over 10-month downtrend line.
11. $45-$50 target zone
To summarize, I expect the current uptrend in Solarwinds to continue, unless I see otherwise in the Trade Triangle technology. If I am correct with my analysis, Solarwinds could potentially move up to the $45.00 to $50.00 level longer term.
Every success,
Adam Hewison
President, INO.com
Co-Creator, MarketClub