Today, I am going to be analyzing the relationship between Starbucks Corp. (NASDAQ:SBUX) and its main raw commodity, coffee beans.
Let me start off by saying that I really like Starbucks and the coffee it sells. In fact, my favorite drink at Starbucks is a Venti Coffee Frappuccino with one third the ice, blended five times.
Major Challenges
Starbucks faces a major challenge, one it cannot control - the price of its major commodity, coffee.
With one of the worst droughts in history hitting Brazil's coffee belt region, it is rapidly pushing prices higher. This is no ordinary drought as it is forcing more than 140 cities in Brazil to ration water. Reports in Brazilian newspapers indicate that some neighborhoods are receiving water only every three days. This is serious, as Brazil produces most of the world's coffee.
With Coffee (NYBOT:KC.H14.E) prices at 14-month highs, there is little to suggest that this trend is going to change any time soon. It would appear as though early predictions are indicating that coffee supplies could be 5 million bags lower than consumption for the 2014–2015 season.
The other side of the coin is that there are more and more people drinking coffee. We are seeing that in developing markets such as Brazil, India, and China where they are acquiring a taste for this delicious beverage.
I'm sure that Starbucks can put pressure on the growers and the wholesalers, but that will only go so far in savings. Eventually, they're going to have to take a hit on their bottom line because of the drought in Brazil and higher raw commodity prices.
When does the consumer eventually say that cup of coffee at Starbucks is just too expensive? Will consumers, instead of having one cup every day, cut back to maybe every other day?
A Tale Of Two Charts
In the two charts below, you'll see a broad yellow column highlighting the same time frames on each chart. It shows the high period in Starbucks and a low period in coffee prices.
What Does This Company Do?
Starbucks Corporation operates as a roaster, marketer, and retailer of specialty coffee worldwide. Its stores offer coffee and tea beverages, packaged roasted whole bean and ground coffees, single serve products, juices and bottled water.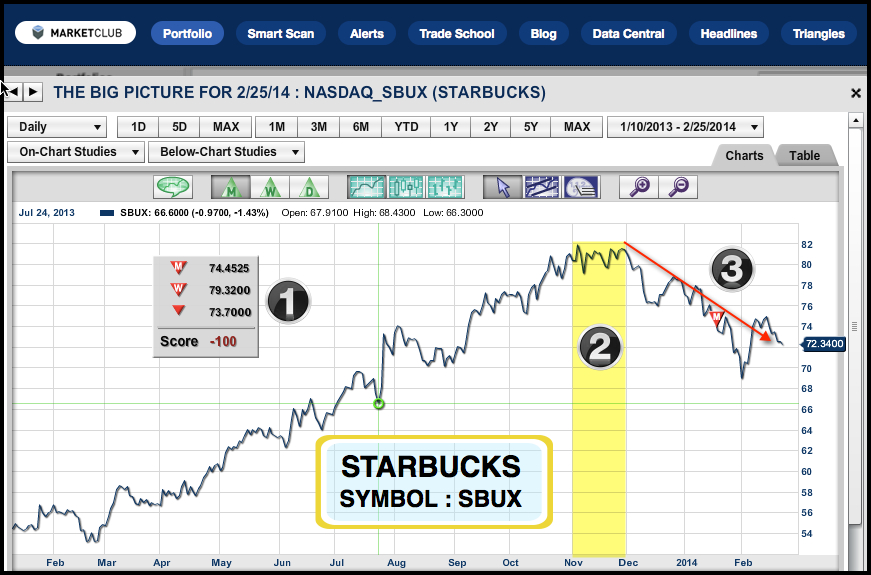 Chart Legend & Technical Picture For Starbucks (Black Numbers)
1. All Trade Triangles are red and negative
2. Yellow column shows high in stock prices and inverse in coffee price
3. Downtrend firmly in place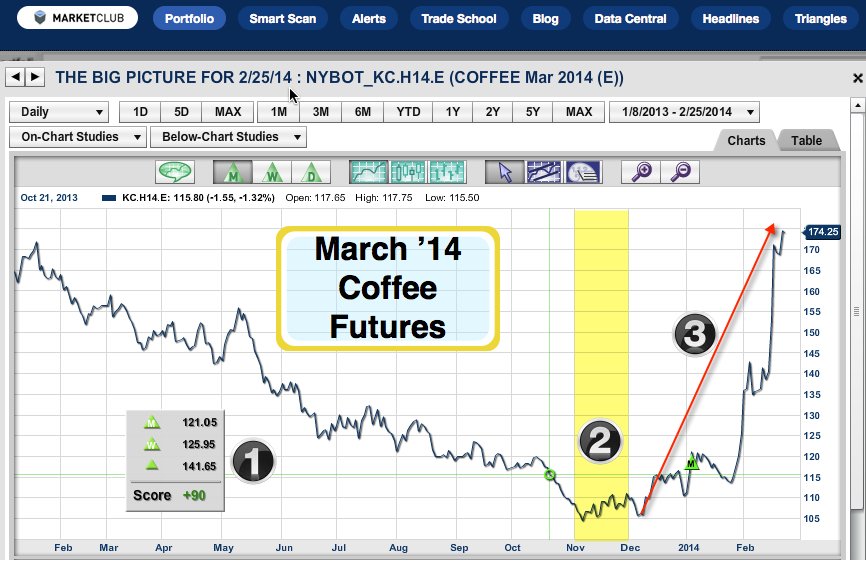 Chart Legend & Technical Picture For Coffee (Black Numbers)
1. All Trade Triangles are green and positive
2. Yellow column shows low in coffee prices and inverse in stock price
3. Uptrend firmly in place
To summarize, I expect the current downtrend in Starbucks to continue unless there is a dramatic reversal in coffee prices or a reversal with the Trade Triangles.
If I am correct in my analysis and these two trends continue, Starbucks could move down to the following Fibonacci support levels:
38.2% @ $67.85
50% @ $63.31
61.8% @ $58.77
You may want to check out my earlier Starbucks post here. I hope you found this Starbucks Corp. (NASDAQ:SBUX)/Coffee (NYBOT:KC.H14.E) comparison informative and helpful.
Every success,
Adam Hewison
President, INO.com
Co-Creator, MarketClub