Today marks the last day of trading for the month of August and I have to say, it has been quite a month. With all the news about ISIS, the Ukraine and Hamas and Israel, you would think the world was coming to an end. Well, don't tell that to the stock market! It made all-time highs and put in a very solid month of returns in August.
Traditionally August has always been a rather slow month, as many traders and investors take off on vacation to spend time with family members and loved ones. This August was no different as trading volume slowed, but the market continued its upward trend.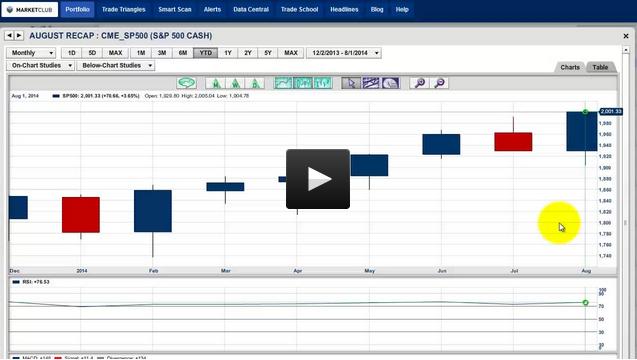 The big winner as far as the indexes are concerned is the NASDAQ (NASDAQ:COMP), which is presently trading approximately 4.61% higher for the month. Closely behind the NASDAQ is the S&P 500 (CME:SP500), which is up 3.62% as of midday Eastern Standard Time. The DOW (INDEX:DJI), not to be out done, reversed its earlier weakness and rallied into positive territory for the month and is presently up 3.12%.
One would have thought with all the problems in the Middle East that crude oil (NYMEX:CL.V14.E) would've closed out the month of August on a positive note. Well, truth be told the trend in crude oil is down, approximately 2.27% for the month of August.
The gold (FOREX:XAUUSDO) market, which is traditionally a haven when uncertainty blankets the world, really did nothing other than lose ground in the month of August. For the month, gold is neither gaining nor losing and is generally flat on the month.
All these diverging trends underscore just how important technical analysis is in timing trades. For example, one might think the crude oil market should be going higher because of the ongoing problems in the Middle East. While that may be the thought of conventional thinking, MarketClub's technical Trade Triangles were telling a different story, one that has proven to be profitable an correct. Much the same thing happened in gold as the bull market fizzled and the trend turned down.
Eventually all trends change, the questions is, will you be ready when that happens?
In today's video, I recap the month of August for all the major indices, crude oil and gold. Be sure to watch this monthly recap and let us know what you think in the comments section.
Have a great weekend everyone, see you in September!
Adam Hewison
President, INO.com
Co-Creator, MarketClub