Guess what? Grandma was right!
On February 11th, I posted a blog titled, How To Successfully Play The Earnings Game And Win 95% Of The Time.
This blog posting generated a tremendous amount of feedback from our members, so much so that I decided to once again play the earnings game and pick out 5 stocks that were going to release their earnings either after the close or before the markets opened the next trading day.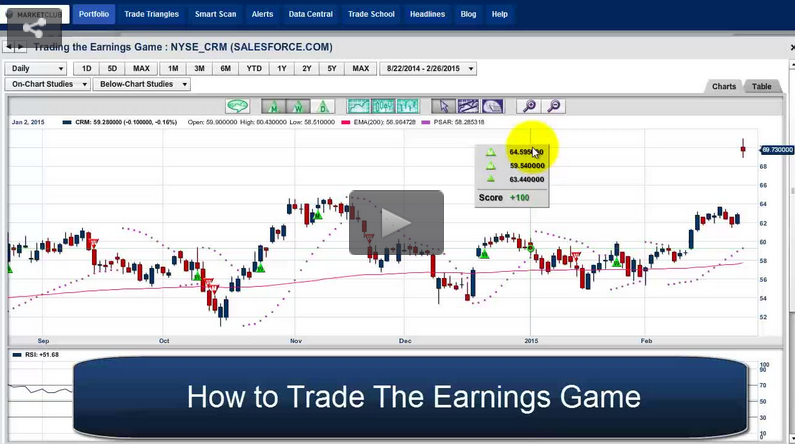 I rely on Yahoo's earning calendar to find out what stocks are scheduled to release earnings and at what time they will release them, after the market close or before the market opens the next day.
Here are the five stocks I picked out and decided to buy based on the Trade Triangle technology:
Salesforce.com Inc. (NYSE:CRM) closed on 2/25 at $62.93
Avago Technologies Limited (NASDAQ:AVGO) closed on 2/25 at $112.68
Workday Inc. (NYSE:WDAY) closed on 2/25 at $94.02
L Brands Inc. (NYSE:LB) closed on 2/25 at $92.47
Sprouts Farmers Market Inc.(NASDAQ:SFM) closed on 2/25 at $37.02
I'll be looking at all five of these stocks today and sharing with you why I picked them and how you can do the same thing with stocks that are reporting tonight or tomorrow morning.
Ideally you are playing the percentage game, and you want to buy in equal dollar amounts of each stock. For example, let's say you buy 100 shares of Salesforce at yesterday's close. That would come to $6293. If you purchased 100 shares of Avago Technologies at the same time, that would be $11,268. Now let's say the next day, Salesforce closed out the day up 10% and Avago closed down 10% for the day! You would have lost money, even though the percentage move in each stock was the same. Losing money is not the object of this game.
Had you invested equal amounts of money in each stock, you would actually be in flat which means you wouldn't make any money, but you wouldn't have lost any money either. Your only cost would be the cost of the commission to trade the stocks. It is very important to keep your dollar amounts equal for each stock you buy. The important element here is to buy more than one stock, that way you are diversifying and spreading your risk at the same time. It is also providing you with more opportunities to make money.
Now there are three ways to play the earnings game using MarketClub's Trade Triangle Technology. You must have the weekly and monthly Trade Triangles the same color, either both green or red. It doesn't matter if those green or red Trade Triangles came in a week or six months earlier, providing they match before earnings are announced. If you are going to buy a stock before earnings, only do so when the Trade Triangles are green. If you're going to short a stock looking for bad earnings, you will have to have both a red weekly and monthly Trade Triangle in place to do that.
After you have purchased several different stocks (remember, diversification lowers risk), here are three different strategies on how you would exit those stocks the next day.
1. You exit all your positions on the opening following the earnings announcement. (simple and clean)
2. You exit half of your positions at the opening and the exit the remaining shares on the close. (requires more finesse)
3. You exit all of your positions at the close of business. (simple and clean)
Remember, this is a short term trading strategy, you are not getting married to a stock, it is not a position strategy like we use in our intermediate or long-term Trade Triangle strategies.
This earnings approach is simply meant to take advantage of very short terms moves in the marketplace, and it is not for everyone. It is also not a guarantee that every position is going to make money, there will be losses. However, I firmly believe that if you diversify and approach this strategy systematically, picking shares that match the criteria I described above, that you will make money.
If you have any questions or comments about this strategy, please leave them below this post.
Every success with MarketClub,
Adam Hewison
President, INO.com
Co-Creator, MarketClub