Let's face it, there are hundreds of technical indicators out there doing all kinds of mischief in the market. Some of them are good and some of them may be hyped a little too much.
For the moment I am excluding the Trade Triangle technology which I personally believe is one of the best methods to trade the markets.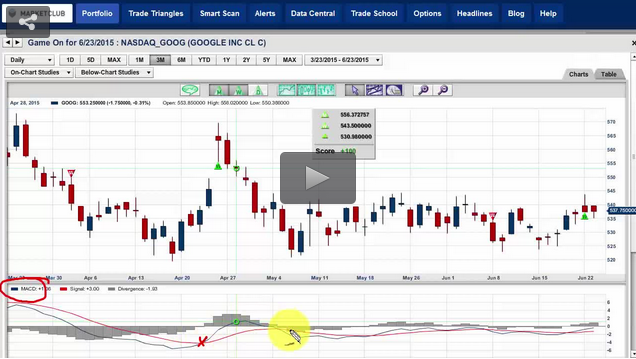 I often hear that the markets are not the same and that they have changed, and I have to agree to a certain extent they have changed. However, the fundamental purpose of the market is to set the price, good or bad, for a market, a commodity or anything else that is freely traded and that principle has not changed.
Many times I've mentioned and written about how a market can only do three things. It can go up, down, or sideways and that's pretty much the way it has been since markets first began. There are very few things in life that are that clear-cut. Based on that premise, you just need to find an indicator that tells you when the market is going up and when it is going down. This dictates when you should be either long in the market or on the sidelines or short.
The indicator that I'm looking at today is the Moving Average Convergence/Divergence, or the MACD, as it is commonly referred to. The MACD is a trading indicator used in technical analysis of stock prices, created by Gerald Appel in the late 1970s. I had the good fortune of touring with Gerald throughout the Far East, giving lectures on technical indicators and markets. I must say, I had a great time with Gerald who has a great sense of humor.
You can view an in-depth lesson on the MACD right here.
I'm going to look at three stocks today that are very close to receiving major buy signals with the MACD indicator:
Apple Inc. (NASDAQ:AAPL)
Google Inc. (NASDAQ:GOOG)
Amazon.com Inc. (NASDAQ:AMZN)
Let me know what you think of these three stocks and if you think they are worth putting in your watchlist. Please feel free to leave a comment below this post.
Every success with MarketClub,
Adam Hewison
President, INO.com
Co-Creator, MarketClub