Much like actors and actresses in Hollywood, certain stocks seem to dominate the headlines regardless of whether it's good or bad news. Meanwhile, less known names are outperforming their superstar counterparts yet continue to operate in relative obscurity.
Value investors love finding these stealthy bullish stocks. The less known it is, the more likely it is that it's been undervalued.
A disruptor that's defying gravity
Outerwall (OUTR) is a $1.55 billion specialty retailer that has an interesting story to tell to investors. The company is known for its brand name Redbox and Coinstar machines and along with its competitor Netflix (NFLX), is responsible for revolutionizing the way consumers rent movies and watch television. Outerwall has more than 66,000 kiosks across the U.S., Canada, Ireland and the U.K.
In the past year, the stock has gained nearly 54% and has done well so far this year as well – up 12.5%.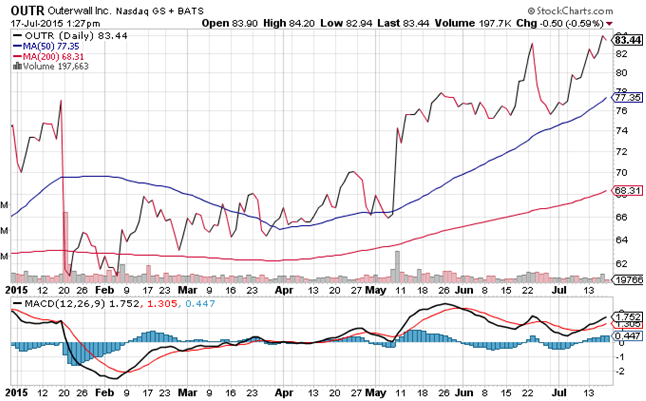 Chart courtesy of StockCharts.com
Taking a closer look at the chart, we can see that the 50-day moving average has been above the 200-day all year long and now appears to be pulling away at a rapid rate. This momentum is evidenced by its MACD, which indicates a strong upward trend in the stock right now.
The stock continues to climb higher despite a lot of negative expectations by investors. The short float on the stock is over 37% as many expect this stocks long upward climb to come crashing back down. However, the stock hasn't given any indication of slowing down much less reversing course. In fact, analysts that have reported on the stock this year continue to raise their price targets to accommodate Outerwall's high growth.
It's not just the technicals that are on Outerwall's side. The stock trades at a cheap 9.7 times earnings with a long-term growth rate of more than 38%. That makes the stock incredibly undervalued even after its strong run already. The industry average P/E is 19.75 with growth expectations of 11%, so Outerwall is very attractively priced. The company consistently beats earnings expectations with the most recent being its first quarter report of $2.87 per share versus the estimated $1.64 analysts had anticipated – a beat of 75%.
The stock also looks cheap based on its price-to-sales ratio of 0.67 and dividend yield of 1.4%. Additionally, the company has approved a buyback program to repurchase up to $250 million worth of its stock and only $40.7 million has been spent so far. That means the company can still buy back up to 2.51 million shares which reduce the total share count to 15.94 million. That would help boost EPS and drive the stock even higher.
Outerwall's most recent quarter is good news for investors. Net income leaped a whopping 104.6% year-over-year while free cash flow increased 26.2%. Its Redbox segment posted its highest quarterly revenue on record and gives the company room to raise prices and improve margins going forward. At just $1.50, Redbox rentals are still the cheapest rental option for consumers compared to On-Demand rental costs that range from $4 to $6 on average.
Given the stock's P/E and current earnings estimates for 2015, the stock could be valued at over $100 per share. If the company buys back a considerable amount of stock, even more value could be unlocked for shareholders. With so much short interest in the stock, it's possible that continued upward momentum could create a short squeeze scenario as well, boosting the price higher very quickly.
Check back to see my next post!
Best,
Daniel Cross
INO.com Contributor - Equities
Disclosure: This contributor does not own any stocks mentioned in this article. This article is the opinion of the contributor themselves. The above is a matter of opinion provided for general information purposes only and is not intended as investment advice. This contributor is not receiving compensation (other than from INO.com) for their opinion.