Since April, Apple Inc. (NASDAQ:AAPL) has lost over $113 billion in share value and is now only up about 3 or 4% for the year.
What is going on in the world's most heavily-held stock?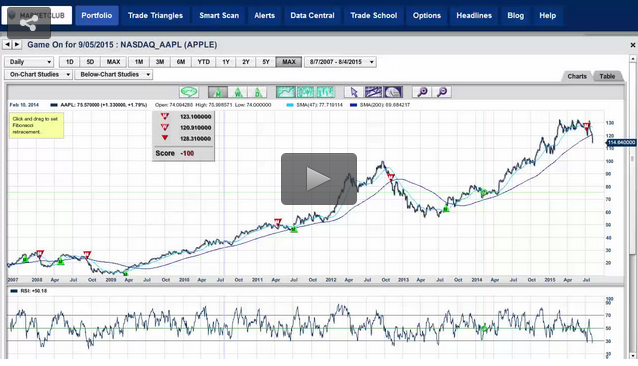 There are some things in life that cannot be explained. People trying to explain the fall in Apple will present logical reasons why, but the reality is, the market's expectations and perceptions often trump common sense.
Reality check: Apple is still a huge company and still making boat loads of money with over $200 billion in cash sitting offshore. Apple is not going to go out of business anytime soon.
Apple's cash cow is the iPhone. Sales growth, while good, is slowing down as the market becomes saturated. The last big market Apple has to conquer is China and that market is getting to be very competitive.
In the world of tech, it is extremely difficult to stay on top forever – one only has to look at history. Think International Business Machines Corporation (NYSE:IBM), Hewlett-Packard Co. (NYSE:HPQ) and even Microsoft Corporation (NASDAQ:MSFT) to see what happens to leaders in this field after a while. So while Apple is a great stock, it may not be a growth stock anymore.
What Apple has going for it is an ecosystem and a huge customer base that will stay true to Apple. What Apple has to do, in my mind, is create more recurring revenue streams from its established customer base. The Apple watch, while it is a beautifully manufactured product, really didn't offer anything new and exciting in the world of smart wear. I believe it was a disappointment to Apple as they did not break out sales of the Apple watch in their last reporting period.
While Apple continues to be the most valuable company in the world, investors may, if they haven't done so already, start looking at the likes of Google Inc. (NASDAQ:GOOG) up 26% and Facebook Inc. (NASDAQ:FB) which is up 21% for growth.
In today's video, I will be analyzing how far Apple can move to the downside and why this is not a stock to be in for the next eight or nine months.
I will also be covering all the major indices, gold, crude oil and the euro.
Every success with MarketClub,
Adam Hewison
President, INO.com
Co-Creator, MarketClub