Introduction
Immunotherapy has emerged as an exciting therapeutic area that has experienced massive growth over the past few years in terms of research and development expenditures and sheer number of clinical trials throughout the biotechnology sector. Immunotherapy ushers in a new class of potentially promising therapies by leveraging the immune system to recognize and eradicate debilitating diseases, specifically cancer and chronic viral infections. This immunotherapy approach may inevitably result in a paradigm shift from traditional medical intervention. Immunotherapy possesses holistic attributes by harnessing the body's immune system to content with disease. In addition to the holistic aspects, immunotherapy has been shown to have a favorable side effect profile and best-in-class efficacy across many different disease states. These therapies may provide powerful technology to content with a host of diseases and in a future state may potentially serve as a preventative technology similar to a traditional vaccine. Immunotherapy has evolved into many different classifications with differing modalities over the past few years, which has given rise to a growing number small-cap biotechnology companies with potential investment opportunities via an immunotherapy ETF.
Immunotherapy – The terse science
Immunotherapies engage and recruit the immune system to combat disease by inducing an antibody generation response against a specific antigen (foreign entity) typically present on the cell surface of a virus or cancer cell. This is very similar to a traditional vaccine approach seen for a whole host of diseases throughout history. These cell surface antigen targets typically evade the surveillance mechanisms of the immune system and thus persist and manifest disease within the host. As a result of the body's inability to recognize and destroy these antigen targets via antibody generation and subsequent eradication, these antigens must be presented to the immune system exogenously. An option for the immunotolerant host outside of traditional medical intervention is immunotherapy via exogenous delivery. Immunotherapies are directed at a specific antigen or cluster of antigens that compose the unique signature of a virus or cancer cell that is dissimilar to its host thus recognizing self from non-self.
There are many difference approaches in delivering these novel therapies utilizing various vectors as well as the body's own white blood cells. Early immunotherapies extracted whole blood and enriched the blood for the white blood cells. These white blood cells were then incubated with an engineered fusion protein (one part antigen designed to a specific virus or cancer cell and one part growth factor). During the incubation the white blood cells internalize and process the fusion protein resulting in active antigen-presenting cells. These active antigen-presenting cells are infused back into the patient to present the antigen of interest to the T-cells thus enabling the generation of antibodies to recognize and destroy the disease of interest. Advances in the field of immunotherapy involve targeting multiple antigens, non-cell based delivery and utilizing a traditional vaccine approach with fusion proteins. Companies are exploring chimeric antigen receptors and high-affinity T-cell receptors to allow the recognition of cancer cells via a more direct manner.
An immunotherapy investment case study
Dendreon was the initial high-flying trailblazer in immunotherapy however the company encountered many challenges after approval of its prostate cancer treatment, Provenge™ in 2010. Expectations were high, expansion was rapid and the addressable market was largely unknown for this type of novel therapy. The adoption by physicians was not as rapid as initially thought despite its efficacy and favorable side effect profile. The stock shot as high as $54 a share and exceeded a market capitalization of $5 billion only to languish for the next four years and finally succumbing to bankruptcy and delisted from the Nasdaq. Valeant emerged as a suitor that showed the most interest in this product and Dendreon's intellectual property and acquired the company via bankruptcy court proceedings for $495 million. Despite approval of the first immunotherapy, the single company investment risk in this emerging technology proved to be highly disappointing and leaving investors empty-handed. Diversifying throughout the immunotherapy cohort may provide the needed risk mitigation if considering the intrinsically risky group of largely clinical stage companies.
The immunotherapy ETF
Loncar Investments is rolling out the first immunotherapy ETF and per Loncar Investments
"Immunotherapy, or harnessing the body's own immune system, is changing the way many cancers are treated. While traditional medicines like chemotherapies often give cancer a broad punch, the benefit of using immunotherapy is derived from the immune system's dynamic nature and the way it can more precisely be tailored to fight a patient's disease. Interleukin-2, a cytokine, was the first cancer immunotherapy approved in 1992. Antibody therapies that facilitate the destruction of cancer cells by the immune system have been widely used since 1997, and the first cell-based immunotherapy, a cancer vaccine to treat prostate cancer, was approved in 2010. Today, many new classes of therapies, including checkpoint inhibitors, next generation vaccines, and chimeric antigen receptor (CAR) technologies, are being developed. It is the progress of these new therapies that the LCINDX aims to track."
"The index was designed to capture contributions from companies both large and small that are leading in this effort. First, seven top large pharmaceutical companies who are working on immunotherapy are chosen. They are selected both for their strategic focus on immunotherapy, and their leadership role in a specific type of immunotherapy. Next, the top 23 growth biotechnology companies in immunotherapy by market capitalization are added. This leaves the portfolio with a target composition of 30 companies. It is an equal-weighted index and is rebalanced semi-annually. We believe this mix provides the best way of measuring the field's growth." (Figure 1)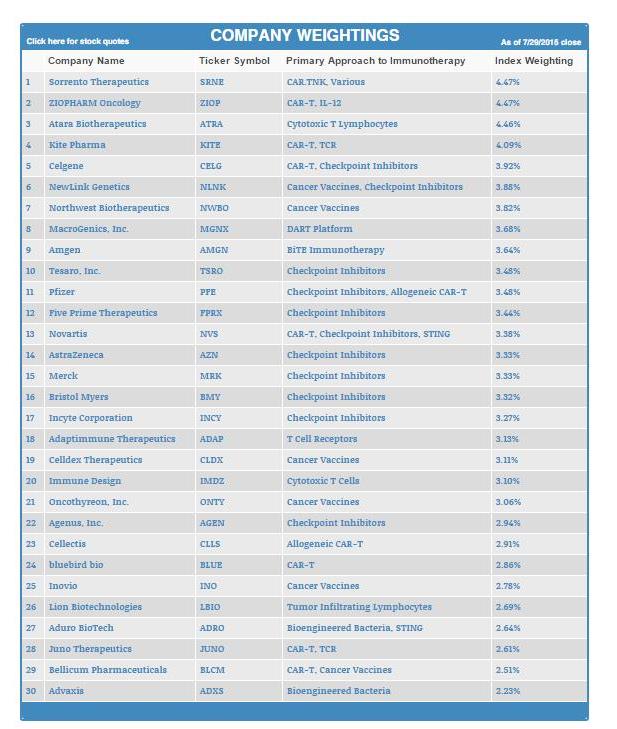 Figure 1: Portfolio holdings within the Loncar immunotherapy ETF
This ETF is not currently available for the trading on the open market however Loncar has recently partnered with an ETF firm to bring this ETF to the market in the second half of 2015. Therefore, the ticker or expense ratio has not been established for this ETF.
The immunotherapy ETF approach
The FDA has already approved various immunotherapies thus the proof of concept and efficacy has already been well established along with favorable side effect profiles. The aggressive investment in research and development along with partnerships with big pharma in this nascent technology may result in potentially lucrative rewards for shareholders. Due to the high-risk and difficulty of identifying one company in hopes that a clinical stage immunotherapy drug candidate comes to fruition, an ETF offers exposure to the entire immunotherapy niche. This may serve as a viable alternative to those unwilling to take on a single company investment strategy while still taking on risk in this nascent technology. Considering the long track record of innovative treatments coming out of the biotech cohort, an immunotherapy ETF may serve as a great companion holding for any long portfolio and long time horizon willing to take on significant risk within this niche biotechnology technology.
Summary
Immunotherapy ETF investing serves as a niche alternative to the traditional biotechnology ETFs via clinical stage companies focusing specifically on immunotherapy research and commercialization. Immunotherapy investing may involve taking on more risk due to the nature of this technology being in its nascent stages and in the hands of largely clinical stage companies. Immunotherapy ETF investing may translate into superior performance if this technology continues to produce promising clinical read-outs and take hold throughout the sector. Immunotherapy via an ETF may serve as a great satellite holding for any long portfolio desiring exposure to the biotechnology sector with greater risk exposure with a long-term time horizon.
Noah Kiedrowski
INO.com Contributor - Biotech
Disclosure: The author has no business relationship with any companies mentioned in this article. He is not a professional financial advisor or tax professional. This article reflects his own opinions. This article is not intended to be a recommendation to buy or sell any stock or ETF mentioned. Kiedrowski is an individual investor who analyzes investment strategies and disseminates analyses. Kiedrowski encourages all investors to conduct their own research and due diligence prior to investing. Please feel free to comment and provide feedback, the author values all responses.