As the market takes on more of a bearish mentality, investors look for alternative stocks to take shelter in. While cyclical sectors begin to underperform as the global economy flirts with a recessionary phase, defensive sectors start to look more attractive. While consumer staples often perform well during difficult times, one sector has all but faded from more investors minds since the financial crisis in 2008.
REIT's are generally good investments when other asset classes become more volatile. The real estate market isn't always correlated to the broader indexes and since 2008, many investors have avoided them based on a knee-jerk reaction that they will perform poorly when the market dips. The truth, though, is that certain REIT's are actually facing a bullish market right now.
While the Fed might have delayed its interest rate hike, it's a temporary issue that will eventually give way to a rising rate environment within the next year. This might not be positive news for prospective homeowners, but it is good news for companies that derive their income from rental prices.
Rising rates are good news for rental properties which are usually able to increase occupancy and raise prices. Consumers and businesses tend to shy away from buying real estate and favor renting instead. Faced with a long-term rising rate environment, these rental real estate properties are just now entering a bull market that could be a good place for investors to look for profits right now.
Higher rent equals higher margins
Prologis (PLD) is a $20 billion industrial REIT that's in the right business at the right time. According to a recent report by analysts at BoAML, returns for REIT's over the next 12 months is expected to be around 23% and have been trading well under their long-term average NAV at 88% compared to 101%. Industrial and commercial rental values have been up over the last 19 consecutive quarters making Prologis a company with a lot of growth still ahead.
The stock has been upgraded twice in the past few months. In June, Robert W. Baird upgraded it from "neutral" to "outperform" with a target price of $46 while Stifel upgraded from "hold" to "buy" just this month with a target price of $41.
Taking a look at Prologis's chart this year doesn't reveal much yet.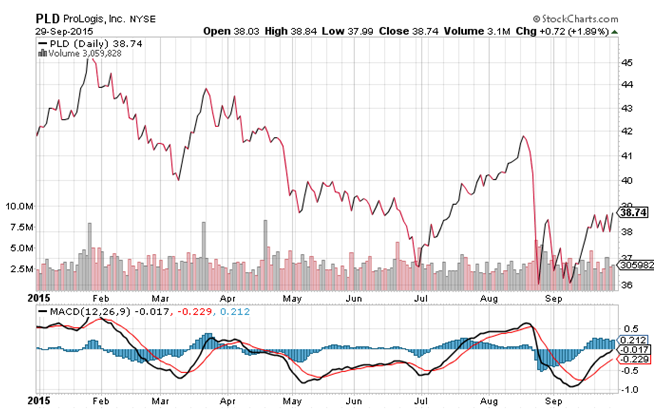 Chart courtesy of StockCharts.com
The stock has traded up and down with a total loss of about 7% year-to-date, but there does appear to be improvements in trading momentum. It hasn't yet crossed over to a point where we would call it strong momentum, but there's been a clear improvement that should carry over in the next few months making it potential bargain buy at this price range.
The stock trades at just 19 times earnings – well under the industry average of 39 with a long-term growth rate of more than 51% giving it a PEG of less than 1. It's a strong signal that the stock is currently undervalued. It also beat earnings for the last quarter with an upside surprise of more than 106% and beat earnings the quarter before by an even larger margin of 455%.
Given the companies pipeline of new industrial construction projects and an environment of higher rents, this stock could move much higher over the next year. Based on it's P/E and earnings growth rate, this stock looks fairly valued at around $45, which could go higher if the company beats earnings again next quarter. Based on its current trading range, that's a potential gain of 15% with a strong likelihood of being raised again.
Check back to see my next post!
Best,
Daniel Cross
INO.com Contributor - Equities
Disclosure: This contributor does not own any stocks mentioned in this article. This article is the opinion of the contributor themselves. The above is a matter of opinion provided for general information purposes only and is not intended as investment advice. This contributor is not receiving compensation (other than from INO.com) for their opinion.