One thing I like to look at are strong trending stocks and nothing indicates a strong trending stock better than new 52-week highs.
If you didn't already know this, there is an easy way to find stocks that are making 52-highs using MarketClub's Smart Scan Technology. You can find stocks in US, Canadian, and Australian markets and have the option of filtering and looking for just certain stocks that meet your criteria.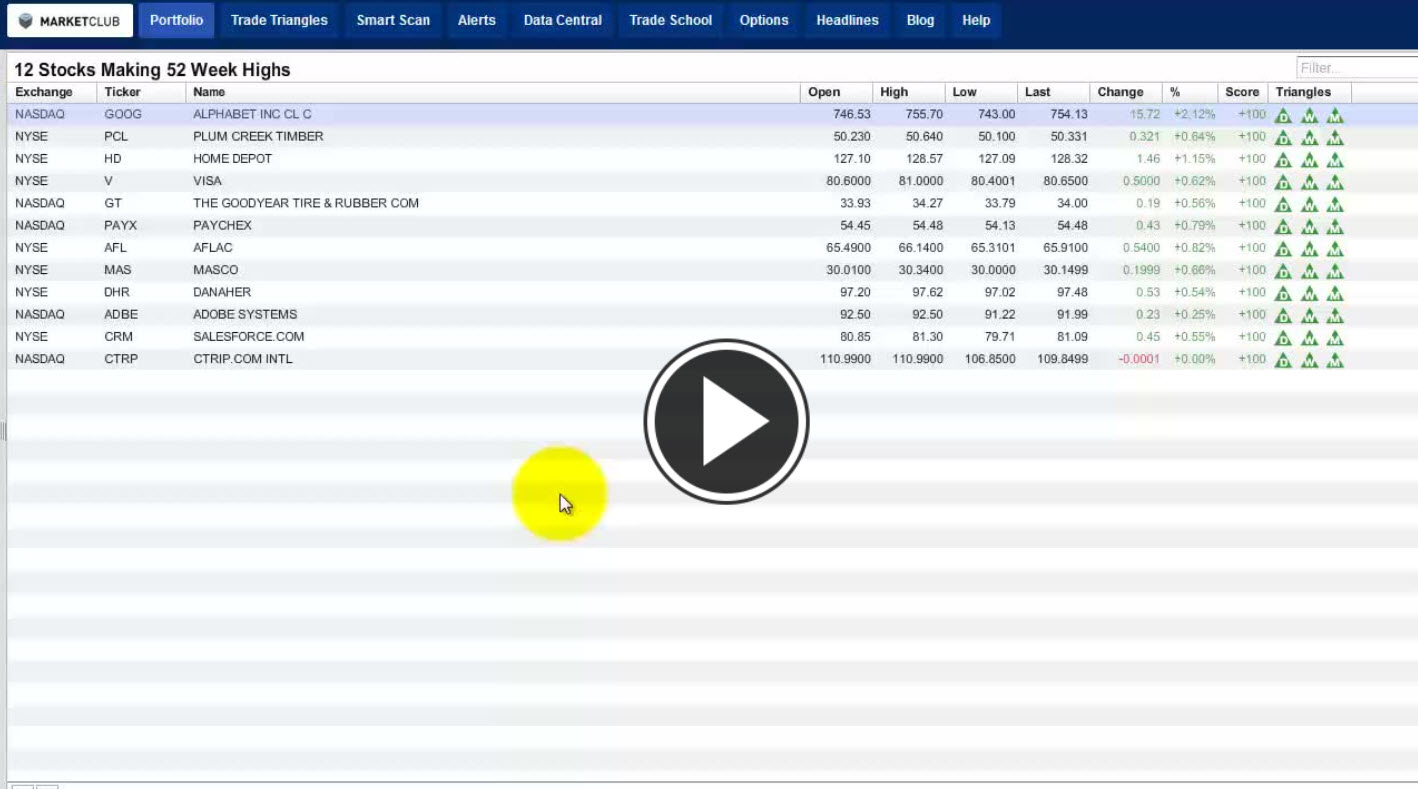 For my purposes today, I looked at stocks that traded at $20 a share or higher, had a daily trading volume of 2 million shares or higher, and I just scanned US exchanges.
Here's a list of the 12 stocks that met the criteria I set up:
Alphabet Inc. (NASDAQ:GOOG)
Plum Creek Timber Co. Inc. (NYSE:PCL)
The Home Depot Inc. (NYSE:HD)
Visa Inc. (NYSE:V)
The Goodyear Tire & Rubber Company (NASDAQ:GT)
Paychex Inc. (NASDAQ:PAYX)
Aflac Incorporated (NYSE:AFL)
Masco Corporation (NYSE:MAS)
Danaher Corp. (NYSE:DHR)
Adobe Systems Incorporated (NASDAQ:ADBE)
Salesforce.com Inc. (NYSE:CRM)
Ctrip.com International Ltd. (NASDAQ:CTRP)
In today's video, I'm going to be looking at each of these stocks and seeing which ones may be excellent candidates for a weekend play. For those of you who are not familiar with the 52-Week New Highs on Friday Rules, here's a refresher.
Rule #1: On a new 52-week high, when the market closes at or near its high on a Friday, buy long and go home for the weekend.
Rule #2: Exit the long position on the opening the following Tuesday.
Rule #3: If the market opens lower on Monday, exit this position immediately.
I invite you to watch today's video and look at the dozen stocks I found using MarketClub's Smart Scan technology.
Be sure to leave a comment below this post and let us know what you're looking at and what you think of the markets.
Have a great weekend everyone! Stay focused and disciplined.
Every success with MarketClub,
Adam Hewison
President, INO.com
Co-Creator, MarketClub