Hello MarketClub members everywhere!
Once again Janet Yellen, the chairwoman of the Federal Reserve, gave the market yet another easy money "fix". Easy money is the drug of choice for this market and has been for the past six years. Can the insanity of printing more and more money keep going on and on, or will the market have to go into rehab and kick its easy money dependency? Only time will tell. Eventually someone, and that means all of us, will have to pay the piper.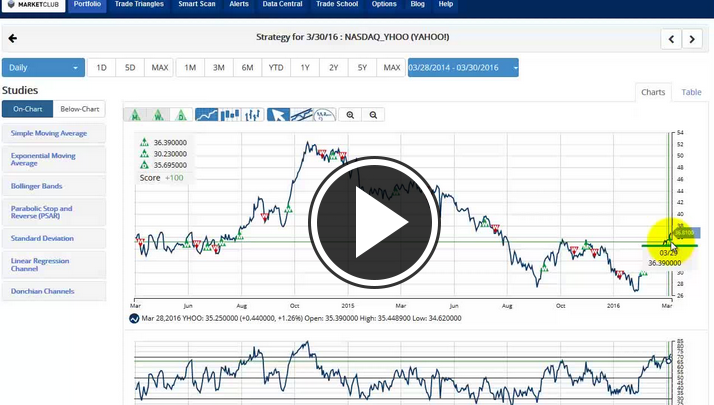 As of today, many stocks, including the major indices, remain locked in broad trading ranges. This could all change as we come to the end the first quarter and move into April.
Apple Inc. (NASDAQ:AAPL): Yesterday, I did something I haven't done for a long time, I went into a Best Buy Co., Inc. (NYSE:BBY) store. I went to see the display of drones that a friend had told me about. I'm not interested in buying a drone, but I am interested in the technology. Besides the drones on display, there were lots of wearable technology and of course, smart phones and tablets. Looking around I was impressed with many of the Android and Samsung smartphones and tablets. In fact, the quality of those phones and tablets were pretty much equal to Apple and at a lower price. In my opinion, the edge that Apple had in this market has peaked. Unless they have some new product that no one's heard about, Apple may just be relegated to take a backseat in innovation.
Having said all that, Apple does have a secret weapon, and that is its ecosystem which is something to behold. This ecosystem ensures loyalty to the Apple brand. It also provides a steady stream of income from iTunes, the App Store and several other sources of recurring income. For any company, recurring revenue is the secret sauce to success. The homegrown ecosystem is Apple's secret weapon and will continue to provide a healthy stream of profits for a long time to come.
Yahoo! Inc. (NASDAQ:YHOO): Yesterday, this once high flying tech stock gave a monthly buy signal indicating a reversal of its downtrend. I will be analyzing Yahoo and providing some upside targets that I see.
In addition to looking at Apple and Yahoo, I will of course, be looking at the major indices, yesterday's rally in gold and the drop in crude oil prices.
Stay focused and disciplined.
Every success with MarketClub,
Adam Hewison
President, INO.com
Co-Creator, MarketClub