Hello MarketClub members everywhere! Today I'm looking at three stocks that are all connected to the healthcare and big pharma industries. All three have one thing in common, they all triggered red weekly Trade Triangles yesterday.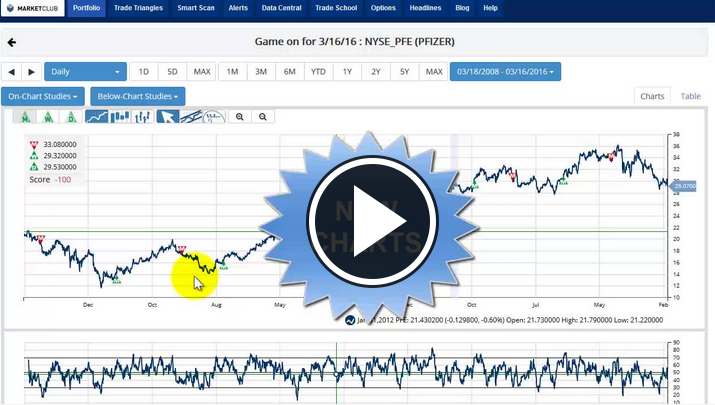 Here are the three stocks that I will be analyzing today.
Pfizer Inc. (NYSE:PFE)
Envision Healthcare Holdings, Inc. (NYSE:EVHC)
Cardinal Health, Inc. (NYSE:CAH)
In addition to the three stocks above I will also be looking at the usual suspects.
But first, we have a surprise for you…
NEW Bigger Charts And More
When you open your charts today, you are in for a big surprise - bigger charts and easier to use navigational tools! Bigger charts are available right now on your smartphone, tablet, laptop or desktop computer. Enjoy!
The Fed
Will they or won't they raise interest rates? That is the question. I would be shocked if Janet Yellen announced today that the Fed was raising interest rates. With Europe and Asia still lowering rates to stimulate their respective economies, the climate is just not right for a rate hike here in the U.S.
Indices
The market action yesterday in each of the major indices was somewhat boring as the bulls and the bears quietly fought for market dominance. Here again are the levels I discussed yesterday that I will be watching today.
Key Levels To Watch
DOW (INDEX:DJI) - 16,991.29
S&P 500 (CME:SP500) - 1,994.71
NASDAQ (NASDAQ:COMP) - 4,690.88
Should any of the levels be reached today in any of the major indices, it would cause that index to be in a more defensive mode and move lower.
Gold
The last few days have seen the daily range for gold (FOREX:XAUUSDO) shrink. I view this as a positive sign for gold. As I mentioned yesterday, I'm looking for key support to come around the 50 line on the RSI indicator. The RSI indicator is currently trading at 50.85. I expect to see another day of consolidation and then expect this market to once again turn positive. Watch the daily Trade Triangle, when it turns green be a buyer of gold.
Crude Oil
At present, intermediate term traders should be on the sidelines. While crude oil (NYMEX:CL.J16.E) is lower for the week, I expect to see more of a trading range for the balance of the week as it begins to regroup. Watch the 50 level on the RSI indicator for signs of good support. Lastly, watch the daily Trade Triangle, when it turns green buy oil.
Stay focused and disciplined.
Every success with MarketClub,
Adam Hewison
President, INO.com
Co-Creator, MarketClub