Over the weekend I was analyzing the charts and it appeared to me that with Friday's red Trade Triangle on the S&P 500 that stocks have topped out. The similarity between August and September and this January and February is quite startling. If the same pattern holds true then the next big swing in the stock market will be to the downside.
Already we have seen weekly Trade Triangles in the NASDAQ (NASDAQ:COMP) and just recently in the S&P 500 (CME:SP500). These weekly red Trade Triangles many times act as early warning system and are a strong indicator to move to the sidelines in the case of the Indices.
I would not be surprised to see more back-and-forth choppy trading action before the market eventually falls under its own weight.
I am looking for stocks to make a cyclical low sometime in June if the same cycle holds true.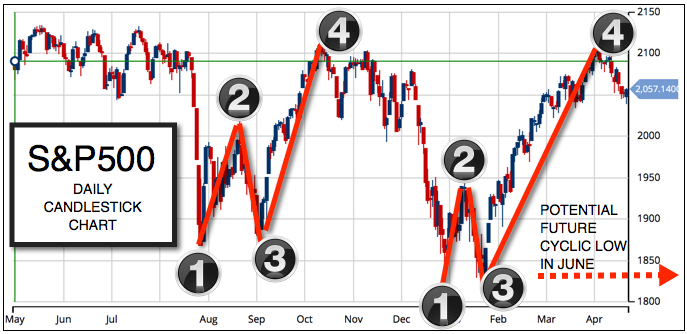 S&P 500 Chart Legend
1. First Low
2. Pivot Point
3. Second Low
4. Cyclic High

Future Cyclic Low
The only stock index that is holding up at the moment is the DOW (INDEX:DJI) with support coming in at 17,580. Should that level be broken this week it would indicate that all three major indices according to the Trade Triangle and that they are officially in a trading range and intermediate term investors should be on the sidelines.
Before that happens I would not be surprised to see more two-way trading action before the market breaks to the downside.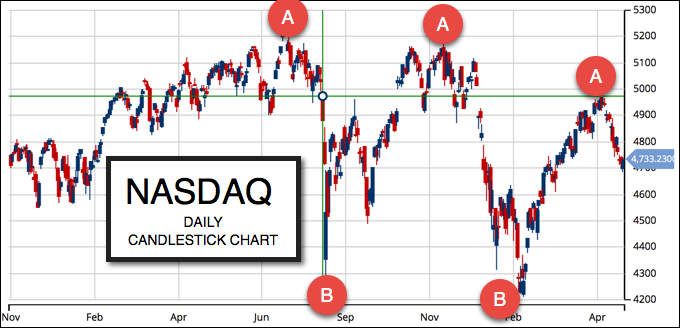 NASDAQ Chart Legend
A. Cyclic Highs
B. Cyclic Lows
It's going to be an interesting week so be sure to check the Trade Triangles as often as you can.
What do you think the markets will do? I would love to hear from you - if you have any questions or comments drop us a line. You can share which markets you're trading, which markets you're watching and how much you love MarketClub.
Stay focused and disciplined.
Every success with MarketClub,
Adam Hewison
President, INO.com
Co-Creator, MarketClub