Hello MarketClub members everywhere. It has been quite a week so far, but before I get to that, let's take a look at what happened in the markets in June and how the markets closed out the month.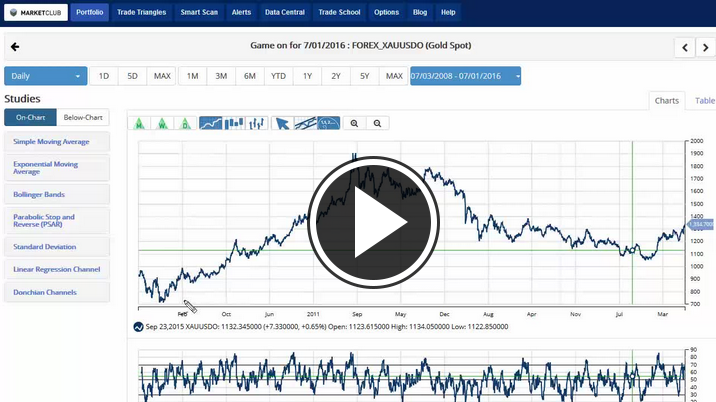 The big winner for the month was gold (FOREX:XAUUSDO). This precious metal was indeed precious to investors last month as it closed out June with a 9.39% gain, far exceeding any other major market.
Crude oil (NYMEX:CL.Q16.E), on the other hand, lost almost 2% in fairly choppy trading conditions.
The major indices had quite a month, but actually closed out June almost unchanged. The Dow (INDEX:DJI) closed out June with a gain of 0.80%, nothing to get too excited about, but if you look at how it got there and count up the percentage swings it was quite extraordinary. The S&P 500 (CME:SP500) was practically unchanged with an almost immeasurable 0.09% gain. The one black sheep in the index family was the NASDAQ (NASDAQ:COMP), which lost 2.19% for the month of June.
With the month of June and the first half of the year behind us, it's interesting to see just what is in store for the markets in the second half of the year.
Looking ahead, we have the long holiday weekend to ponder our thinking towards the second half of the year as we are or soon will be moving into a full, all-out election cycle here in these United States. I'm sure we will see more countries join Great Britain and exit from the EU and we'll see what ripple effects that will have on the world markets.
I'm sure there are going to be some amazing trading opportunities and I am confident in saying that the Trade Triangles will capture them for you.
In today's video, I will be looking at the major indices, crude oil and gold in particular. I will also cover a stock that I believe can move up at least 50% in the second half of the year.
Have a great 4th of July celebration and every trading success to you.
Every success with MarketClub,
Adam Hewison
President, INO.com
Co-Creator, MarketClub