Hello MarketClub members everywhere. We have arrived the middle of the trading week. I've always looked at Wednesday's as a day to reassess your positions after the trading action on Monday and Tuesday. Do you want to stay or exit those positions or do you want to continue to hold them to the end of the week and beyond?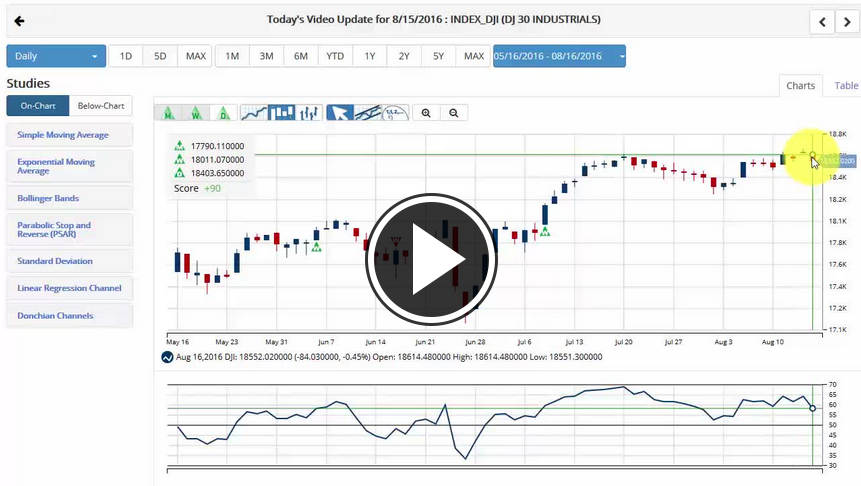 So let's do that, let's take a look at where we are in the markets and how you should be positioning your portfolio for the end of the week.
DOW (INDEX:DJI): This index is slightly lower for the week. However, all of the Trade Triangles remain green and the trend continues to the upside. This would be a hold unless something dramatic happens today.
S&P 500 (CME:SP500): Much like the DOW the S&P 500 is lower for the week, but remains in a positive trend with higher target levels. Unless something dramatic happens today you should be holding this position going into the weekend.
NASDAQ (NASDAQ:COMP): The NASDAQ has had very little change for the week and remains in the confines of a general uptrend as defined by the Trade Triangles. I would expect that this index will begin to show strength towards the end of the week. And this would be a recommended hold position.
Crude Oil (NYMEX:CL.U16.E): Big changes this week in the crude oil market as we received a weekly green Trade Triangle which indicates a reversal of the downward trend. This market is higher for the week and is set to test the $48 level on the September contract. Hold long positions in this market for the weekend.
Gold (FOREX:XAUUSDO): Gold has been fairly choppy this week. However, this market is higher for the week. With all of the Trade Triangles in a positive mode and the fact that I believe the gold market is at or close to a low cyclic period, you would want to hold all positions going into the weekend.
Alert: Please remember that markets can change quite dramatically especially in the waning days of summer when the markets are thinly traded. Always have levels in your mind that if the market penetrates those levels, you will exit your position. This is called discipline and over the long-term, it will save you and make you money.
In today's video update I will be looking at all of these markets plus one or two stocks that I feel warrant your attention.
Stay focused and disciplined.
Every success with MarketClub,
Adam Hewison
President, INO.com
Co-Creator, MarketClub