But No Agreement To Cut Production Likely
OPEC President, H.E. Dr. Mohammed Bin Saleh Al-Sada, Qatar's Minister of Energy and Industry, issued a press release August 8th announcing that an informal meeting of OPEC member countries would take place on the sidelines of the 15th International Energy Forum in Algeria from 26 to 28 September 2016. There was an initial price rise, but that faded on Tuesday and Wednesday.
On Thursday, the Saudi Press Agency emailed a statement by Saudi Energy Minister Khalid Al-Falih that read: "We are going to have a ministerial meeting of IEF in Algeria next month, and there is an opportunity for OPEC and major exporting non-OPEC ministers to meet and discuss the market situation, including any possible action that may be required to stabilize the market."
According to the Financial Times, Al-Falih's comments were mistakenly sent to journalists. Nonetheless, the market rallied Thursday, Friday and Monday, the 15th, gaining 9 %. This rebound reversed part of the drop in prices which had begun in late May.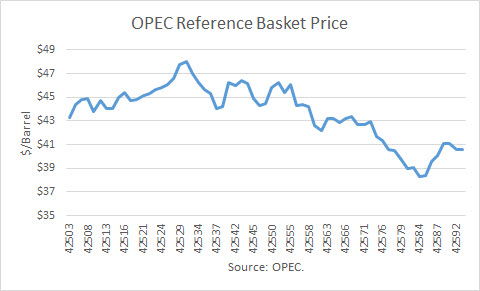 Mr. Al-Falih had been appointed the new energy minister after the failed OPEC meeting with producers to consider a production "freeze." The meeting failed as in large part because Iran would not agree to the freeze, and Saudi Arabia would not agree unless the major producers were on board.
At the OPEC meeting in June, Mr. Al-Falih said: "We will be very gentle in our approach, so we don't shock the market in any way." He explained in an interview that Saudi Arabia's oil investment program is designed to maintain crude production capacity at 12.5 million barrels per day. He said they are investing in a capacity that will offset decline.
Given the hardline positions of Iran and Saudi Arabia, and Mr. Al-Falih's statement about not shocking the market, his latest remark did, in fact, shock the market.
Drilling Rigs and Hedging
As a direct result of the recovery in crude oil prices, drilling activity bottomed out at the end of May. Since the number of oil-directed rigs have risen by 25%.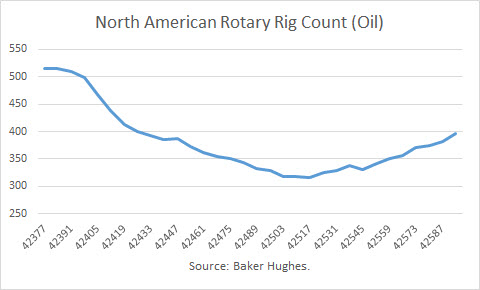 Due to the rise in rigs, the Energy Information Administration (EIA) made a large upward revision to its forecast for U.S. production through 2017 In its Short-Term Energy Outlook ("STEO") report released last week. In total, its crude production revision adds up to 80 million barrels, while its decrease in forecasted net crude imports was reduced by 106 million barrels.
Also last week, the EIA reported that total U.S. crude and petroleum product stocks reached their highest level yet. At 1.392 billion barrels, they are 113 million barrels higher than a year ago.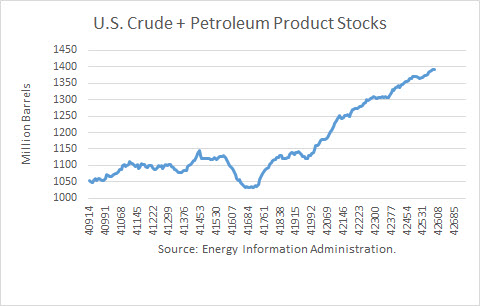 Given the increase in drilling activity and the downtrend in prices this summer, oil producers increased their hedges to the highest level this year. According to the Commodity Futures and Trading Commission (CFTC), short hedges reached 552 million barrels.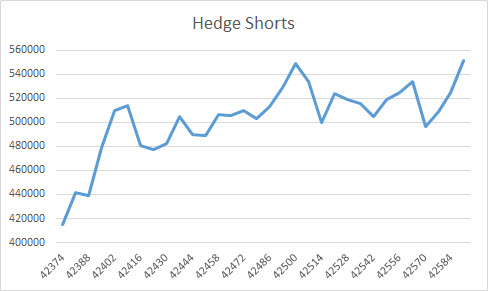 OPEC Export Revenues
The EIA had estimated that OPEC export revenues in 2015 had declined by 47% in 2014, totaling $404 billion. Its report in June, it estimated that export earnings would drop to $341 billion in 2016. Adjusting for inflation, this would be the lowest annual level since 2003.
However, the prices the EIA used in its forecast are higher than futures market prices for that balance of 2016. I re-estimated OPEC's export earnings based on current futures prices. Even with the recent rebound, I estimate they will be about $295 billion. If current futures prices hold, I estimate they will be about $400 billion in 2017.
Conclusion
Despite the fact that OPEC could increase its export revenues by agreeing to cut back on production in September, I do not expect them to agree on that. Iran and Saudi Arabia have taken hardline positions that I do not expect them to change. Furthermore, I do not think the market will give much credibility to the expectation of such an agreement.
Check back to see my next post!
Best,
Robert Boslego
INO.com Contributor - Energies
Disclosure: This contributor does not own any stocks mentioned in this article. This article is the opinion of the contributor themselves. The above is a matter of opinion provided for general information purposes only and is not intended as investment advice. This contributor is not receiving compensation (other than from INO.com) for their opinion.