Hello MarketClub members everywhere. There is no doubt about it Friday's move was sharp and painful for many investors. However, if you are following the Trade Triangles you were out of the market and on the sidelines based on the red weekly Trade Triangle's that were indicating potential problems for all the major indices.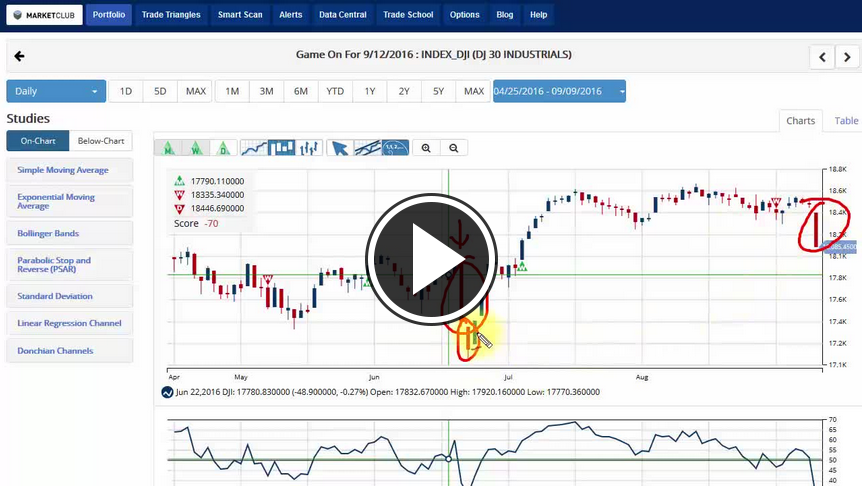 Looking back, Friday's move looks very similar to the move we saw on June 24 of this year when the market dropped dramatically on a Friday only to open lower on Monday. The markets then reversed themselves and moved up and made back all their losses in just four or five days.
The big question is, is this going to be a repeat of last June?
While it's still too early to tell, the long-term trend for all the indices continues to be in a positive mode. It is only the intermediate-term trend that is in question at the moment. This week could be a key week for markets. We also have the Fibonacci retracement levels to look at and will do so in today's video.
The gold (FOREX:XAUUSDO) market has remained remarkably quiet given the volatility in the equity markets. I still believe that we will see gold once again coming to the forefront of investors minds as they clamor for security. While gold does not pay any interest, it certainly has historically proven to be a store of value. I think there are still many unanswered questions about banks and countries that are in trouble. This is especially true in several of the EU countries. We will have to be patient to see how that troubled area plays out.
Looking at crude oil (NYMEX:CL.V16.E), this market continues to remain in a trading range with today's latest daily Trade Triangle indicating a sidelines position at the moment. The intermediate-term weekly Trade Triangle is still in a positive mode indicating the potential for a resumption of the uptrend.
Last week I mentioned Apple Inc. (NASDAQ:APPLE) and the new iPhone seven. It would appear as though the market, in general, looked upon this event as more or less a non-event as Apple stock has in fact fallen and given a red weekly Trade Triangle exit signal. Not many people know I am a huge Apple fan or have been in the past. However, Apple needs to continue to innovate, and that is tough to do on a continuing basis. Many of Apple's competitors have now caught up with Apple particularly in the smartphone category which is Apple's biggest profit center. At the moment I prefer to be on the sidelines and see Apple in a trading range.
Stay focused and disciplined.
Every success with MarketClub,
Adam Hewison
President, INO.com
Co-Creator, MarketClub