Call it the Trump Rally, or any name you like, but the stock market certainly came alive when the election swung in Donald Trump's favor. While all eyes are on equities, other things are going on in other markets that you should be preparing for.
Today, I'm going to take an in-depth look at the gold market that has been out of favor the last several years. Gold (FOREX:XAUUSDO) did enjoy a strong rally in the first half of the year and was a top performer. Since moving close to $1400 in July, gold has steadily eroded down to around the $1,180. The question now is, is gold going to continue on the downside or begin to stabilize and start looking forward to what could be an inflationary future? With that in mind, I decided to look at three market keys that could unlock gold and determine its future.
Long-Term Negative Force Line
FIG 1. I have drawn a long-term down sloping trendline starting from gold's all-time high of around $1900 and connected it to several other high points over the years. To be a valid technical trendline, it must touch three points. When that happens, it confirms the validity of the line. The long-term negative force line seen in FIG 1 is the dominant and number one element that will determine which way gold is headed in the future. I would consider a move over the $1375 - $1400 (3) levels on spot gold as a major signal that gold has changed direction to the upside. When this happens, and it will happen sometime in the future, gold will enter into a multiyear bull market. FIG 1 is the number one technical aspect for gold and should be watched closely in 2017.
Positive Divergence
FIG 2. In this particular illustration on the chart, I show that price action has been lower for gold but momentum in the form of the RSI has not followed price action. If you look at the top chart on FIG 2, you can clearly see price action is moving lower between (1) and (2). Now take a look at the chart, and you can see rising momentum creating a positive divergence with momentum not matching price action. This is usually an indication that a market is beginning to find a base and possibly getting ready for a reversal which in the case of gold would be to the upside.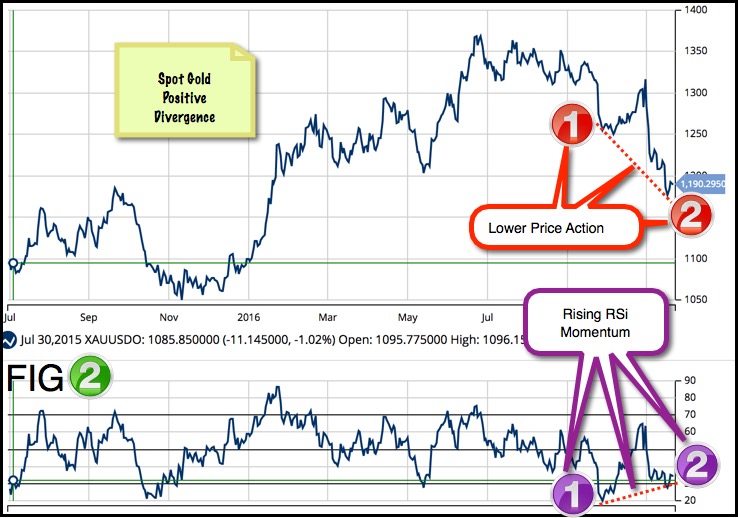 FIG 3. In the final chart, I look at an old friend and that is Fibonacci. For those of you who don't know about the Fibonacci retracement levels, we have a very useful tool in MarketClub that quickly defines them for you. Fibonacci Retracements can help traders find significant price points and predict levels of support and resistance. It is based on the Fibonacci sequence of numbers, identified by Leonardo Fibonacci in the thirteenth century. The relationships between these figures are shown as ratios, and those ratios are used to determine possible reversal levels.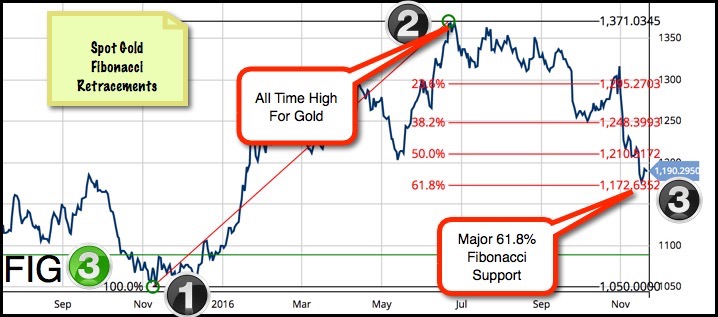 In a trending market, Fibonacci retracements can help traders determine how much a market might retrace before resuming its trend. A retracement is plotted by taking a high and low on a chart and dividing the vertical distance by the Fibonacci ratios. These significant values, as determined by the ratios, then act as Fibonacci levels and represent areas of support and resistance.
As you can see in FIG 3, the move from the low (1) up to (2) and the subsequent retracement levels always down to (3). It is possible that gold has completed a major 61.8% retracement. How would we tell if this is, in fact, the major bottom? That is when we rely on our Trade Triangles to determine a reversal to the upside. In gold, we use the weekly Trade Triangles for trend and the daily Trade Triangles for timing. Once we see a weekly gold Trade Triangle turn green, that is a strong signal to get long gold. That signal would be dramatically magnified if the price of gold was over $1400 breaking the long-term negative force line.
Final Thoughts
While Gold (FOREX:XAUUSDO) may not be ready at this very moment to start a bull market, it's something to put in the back of your mind and be mentally prepared to be a buyer.
Remember nothing goes up forever, and nothing goes down forever and change equals opportunity.
Stay focused and disciplined.
Every success with MarketClub,
Adam Hewison
President, INO.com
Co-Creator, MarketClub