While most of the focus has been on the equity markets lately, the gold (FOREX:XAUUSDO) market has slowly been inching up. After making an all-time high close of $1904.92 on September 5, 2011 (see fig 1) the gold market then spiraled lower for the next several years. All that changed in 2016 when gold found a floor it liked and rallied to produce its first positive year since 2011, closing up almost 10% for the year.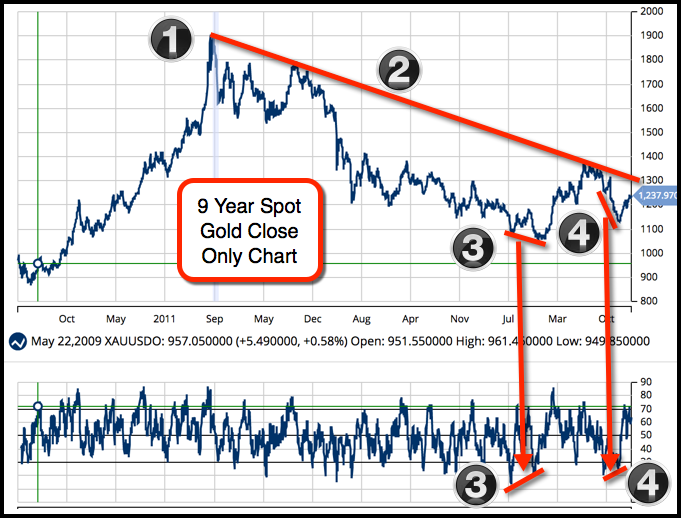 Take a look at the chart, the dominant feature in this close only spot gold chart is the 6 yr downward trend line (see fig 2). This is a classic trend line and an important technical tool. The key elements of any trend line are that it touches three price points. The other key level to look at is where the downward sloping trend line will be broken on the upside. That will occur in this particular trend line when spot gold trades over $1300 an ounce. At that time I believe that gold will embark on a multiyear bull market.
The other outstanding features on the chart are (fig. 3 and 4) which illustrate bullish divergences on the RSI indicator. What that means is that prices were making new lows but were not followed by the RSI indicator. This is interpreted as a bullish sign. However, it must be confirmed with other technical tools.
If you don't already know, you use our Trade Triangles to trade gold. Here are the rules that you should use, the weekly Trade Triangles are used for trend, and initial entry point and the daily Trade Triangles are used for entry and exit points. For example, currently, the trend is up for gold based on a weekly Trade Triangle on January 4 at $1165.69. The weekly Trade Triangle gave us the trend direction, and it was the initial entry point the daily Trade Triangles give us our entry and exit points after the initial signal is given.
By using a mechanical method like MarketClub's Trade Triangles, you take all of the emotion out of what is a very emotional market. For example, back in 2011 everybody was convinced that gold was going to go to $2000 an ounce - that never happened. In fact, the contrary happened when gold fell almost $800 before finding support.
Bottom line, keep an eye on the six-year downtrend line and a $1300 level. Once that level is broken gold (FOREX:XAUUSDO) will be off to the races on the upside. The other key thing to look at is gold's monthly Trade Triangle once that turns green it's a sure sign that things are headed higher for gold.
Stay focused and disciplined.
Every success with MarketClub,
Adam Hewison
Co-Creator, INO.com and MarketClub
J. Adam Hewison is a retired founder of INO.com, Inc. Adam retired from INO in 2016, and on behalf of the entire staff, we wish him well.