Introduction
CVS Health Corporation (NYSE:CVS) is fresh off reporting earnings for FYQ2 with beats on both the top and bottom line. EPS came in at $1.33 with revenue coming in at $45.69 billion, beating by $0.02 and $320 million, respectively. Since reporting earnings, the stock hasn't moved as much of the pessimistic narrative was priced into the stock. Since its high of $112 in 2015, a slew of issues negatively impacting its growth and marketplace have plagued the stock. Firstly, the political backdrop was a significant headwind for the entire pharmaceutical supply chain from drug manufacturers to pharmacies/pharmacy benefit managers (i.e., CVS and Walgreens (WBA)) and the drug wholesalers in-between (i.e., McKesson (MCK), Cardinal Health (CAH) and AmerisourceBergen (ABC)). Secondly, marketplace trends forced CVS to cut guidance for Q4 2016 and the full-year 2017 numbers. CVS stated that "unexpected marketplace actions that will have a negative impact on our Q4 2016 results and a more meaningful impact on our outlook for 2017". Thirdly, CVS lost a contract with the Department of Defense which carries tens of millions of prescriptions on an annual basis. A new restricted network relationship between Prime Therapeutics and Walgreens impacts CVS Pharmacy's participation in selected fully-insured networks in several key states, and many cases make CVS Pharmacy a nonpreferred provider for Medicare Part D as well. These prescriptions tend to be the most profitable prescriptions as well. Lastly, Amazon's purchase of Whole Foods and behind the scenes moves in the healthcare space has incited rumors that Amazon is looking to gain entry into the pharmacy area via leveraging the Whole Foods physical foot print of store fronts. I've written several articles contending that CVS presents a compelling investment opportunity in the ever expanding healthcare space. My investment thesis was based on an aging population and growth in long-term care facilities and the pharmacy benefit management segment. All of this in a backdrop of CVS being highly acquisitive, continuing to deliver robust earnings growth, revenue growth, growing dividends and has an aggressive share buyback program in place. It's a matter of time before CVS will trend higher and in the meantime, investors will be paid to wait via dividends and share buybacks. The wildcard may be the Amazon threat with its first real pivot after acquiring Whole Foods with subsequent potential in entering the pharmacy space as well.
Is There A Growing Amazon Threat?
The backdrop without the potential Amazon threat was positive considering the past acquisitions of Target's pharmacies and the Omnicare purchase. These proactive measures significantly expanded its presence and ability to dispense prescriptions to the general public and in long-term care facilities. As health care costs and prescription drug costs continue to rise and the population continues to age with the elderly comprising a larger segment of the overall population, CVS still looked poised to benefit. That was until Amazon entered the retail space with its acquisition of Whole Foods for $13.7 billion and had shown intentions to gain entry in the healthcare space, more precisely the potentially lucrative prescription space.
There's a lot of speculation that Amazon will disrupt the entire grocery space as it has successfully done to some retail brick and motor businesses. An extension of that thesis threatens ancillary retail companies such as CVS considering CVS operates store fronts. It has been theorized that Amazon will leverage the Whole Foods store fronts as a means to enter the pharmacy business. It has been reported that Amazon is hiring a business lead to figure out how the company can break into the pharmacy market. This new hire was Mark Lyons from Premera Blue Cross to build an internal pharmacy benefits manager for its employees. Furthermore, Amazon has also hired Box's Missy Krasner, VP and managing director of the healthcare and life sciences group. Whether or not this is directly related to selling prescriptions and the intent thereof is unknown however these moves are potentially invading on CVS's turf. Amazon has also started selling medical supplies and equipment in the U.S. Ostensibly; Amazon is inching its way towards the pharmacy space with its first pivot via the Whole Foods acquisition. However, I don't feel that this space is nearly as easy of a target as its bread and butter consumer goods success.
Q2 2017 Numbers and Returning To Growth
CVS reported robust earnings for Q2 2017, beating on EPS and revenue for the second straight quarter. CVS posted EPS of $1.33 (versus Q1 for $1.17) on $45.69 (versus $44.51 for Q1) billion in revenue, up 4.5% year-over-year (versus +3.0% year-over-year for Q1). The retail side remains weak with another contraction in growth however this aligns with the broader retail landscape. Free cash flow was $1.6 billion, an increase of 37% year-over-year. CVS raised the lower end of prior guidance for 2017 EPS from $5.77 to $5.93 to $5.83 to $5.93. Specialty pharmacy remains a bright spot for CVS where growth continues to outpace the market. CVS is seeing strong growth in the open market while securing significant wins in the standalone specialty market. In Q2, specialty revenues increased 11.5% with PBM revenues of $32.3 billion, up 9.5%. Growth was driven by increased volume in pharmacy network claims (up 9.5%) as well as brand inflation and solid specialty pharmacy growth.
During the FY2016 Q4 call, CVS presented actions on returning to healthy growth. This included partnering more broadly, new PBM products, enterprise streamlining initiatives and returning value to shareholders. Despite the negative narrative surrounding CVS, the company has posted robust earnings for both Q1 and Q2 2017, and we'll see how these initiatives continue to bear fruit in the ensuing quarters to come to round out FY2017 (Figures 1 and 2).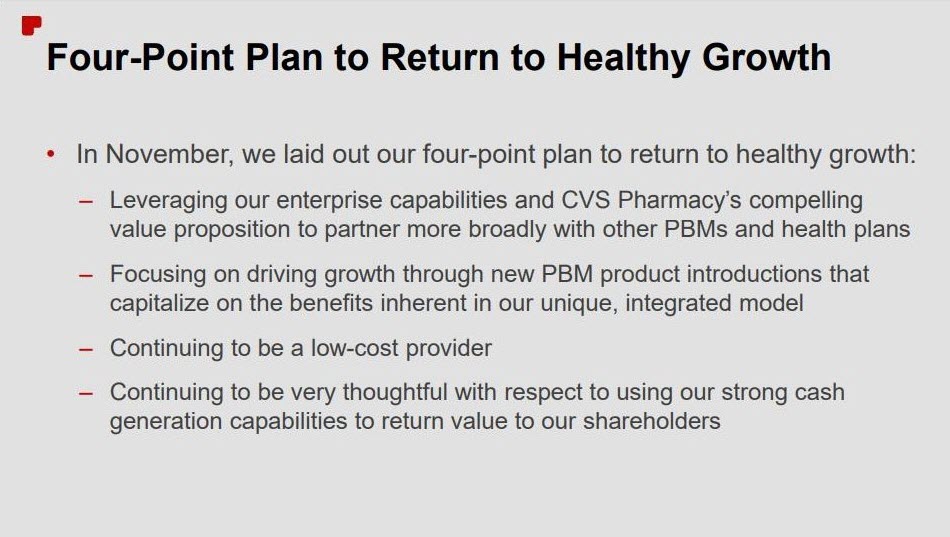 Figure 1 – Return to growth initiatives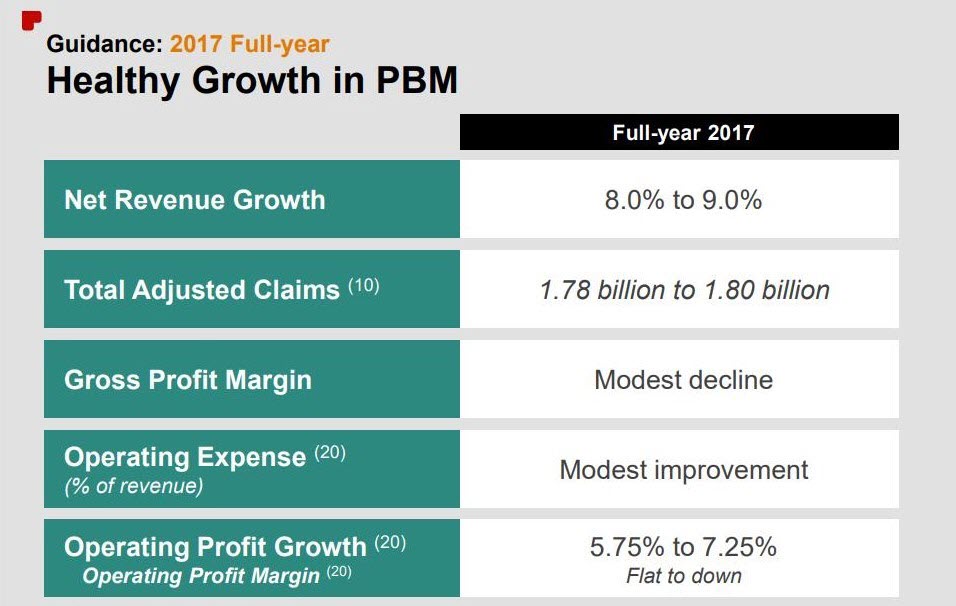 Figure 2 – Highlights in PBM growth
CVS contends that "any suggestion that PBMs are causing drug prices to rise is erroneous." They went further and added, "A recent industry study showed that every dollar invested in PBM services returned $6 in savings for our clients and members". Thus far, CVS has been able to contend with and evolve to marketplace challenges as seen from the Q1 and Q2 2017 results. CVS stated that they are a very active voice in Washington regarding health care issues. They have proactive proposals to lower drug costs via focusing on increasing competition in the drug market, strengthening the ability to use CVS's drug management tools, and easing out-of-pocket costs for consumers. The new FDA has embraced proposals to prioritize the review of generic drug applications, launching a Drug Competition Action Plan. The agency has published a list of more than 260 off-patent branded drugs without approved generics to encourage the development of ANDAs in markets without competition. Also, they now will expedite review of generic drug applications until there are three approved generics for a given drug product. May and June of this year have seen the most generic drug approvals since the FDA began tallying its monthly approvals. If these initiatives and adoption to marketplace challenges continue then CVS will weather the short term storm while the long term thesis remains well intact.
Returning Value to Shareholders
CVS has been doubly rewarding investors via growing dividends and share repurchases. In Q2, CVS bought back 14.3 million shares and year-to-date 50.4 million shares for $4 billion at $78.67 per share. There's ~$14 billion remaining in share repurchase authorizations, and the company expects to return another $7 billion in shares repurchases and dividends in 2017. The dividend currently sits at $0.50 per quarter or 2.5% annual yield to further return value to the shareholder base (Figure 3).

Figure 3 – Capital return summary
Summary
Marketplace trends forced CVS to cut guidance for Q4 2016 and the full-year 2017 numbers. Based on Q1 and Q2 2017 numbers, CVS has been able to contend with the negative narrative and marketplace headwinds. CVS Health Corporation (NYSE:CVS) has EPS estimates for three consecutive quarters and has grown revenue by 3% and 4.5% on an annual basis for the most recent quarters. There's a lot of speculation that Amazon will disrupt the entire grocery space as it has successfully done to some retail brick and motor businesses. An extension of that thesis threatens ancillary retail companies such as CVS considering CVS operates store fronts. Amazon has made some big hires in the healthcare space. However, this could be unrelated the pharmacy space. With moderate growth across the enterprise and ~$14 billion earmarked for share repurchases along with a $2.00 per share in dividends moving forward, CVS remains a buy at these levels. CVS has been highly acquisitive, growing dividends over time and buying back its shares to drive shareholder value. CVS has raised the lower end of its guidance and is on track to drive growth and make the appropriate adjustments to mitigate potential headwinds. I remain long CVS, particularly at the sub the $80 level.
Noah Kiedrowski
INO.com Contributor - Biotech
Disclosure: The author currently holds shares of CVS and the author is long CVS. The author has no business relationship with any companies mentioned in this article. He is not a professional financial advisor or tax professional. This article reflects his own opinions. This article is not intended to be a recommendation to buy or sell any stock or ETF mentioned. Kiedrowski is an individual investor who analyzes investment strategies and disseminates analyses. Kiedrowski encourages all investors to conduct their own research and due diligence prior to investing. Please feel free to comment and provide feedback, the author values all responses. The author is the founder of stockoptionsdad.com a venue created to share investing ideas and strategies with an emphasis on options trading.