Analysis originally distributed on August 30, 2017 By: Michael Vodicka of Cannabis Stock Trades
Opioid abuse has quickly grown into a major global epidemic.
While opioids can be great for pain relief, the down side is that they are highly addictive. Recent data shows that opioid abuse and addiction is killing tens of thousands of people every year in just the United States.
Overdose deaths caused by prescription opioids have quadrupled since 1999. From 1999 to 2015, more than 183,000 people have died in the U.S. from overdoses related to prescription opioids.
This is an alarming trend that has both patients and health care professionals asking - are we capable of providing a better alternative?
According to a young biotech located Australia the answer is yes - and the solution comes in the form of cannabis.
If this young cannabis biotech is correct, not only will patients benefit, early shareholders will be rewarded with huge gains.
Let's take a look.
Medlab Clinical (ASX:MDC) is an up and coming biotech headquartered in New South Wales, Australia.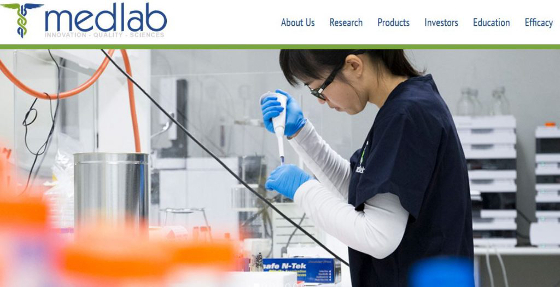 The company was founded in 2012 and went public on the Australian Stock Exchange on July 14, 2015 under the ticker symbol MDC. Shares are currently not traded on US exchanges. That means if US and international investors want to purchase shares it has to be done through the Australian Stock Exchange.
Medlab specializes in researching and developing new bio-therapeutics.
Bio-therapeutics is the science of developing therapeutics using biological materials as opposed to synthetic, chemical materials.
Medlab is currently running five core research programs developing bio therapeutics for:
Obesity
Chronic Kidney Disease
Depression
Musculoskeletal muscle loss associated with aging
Non-opioid pain management
Although not all of its bio therapies are cannabis based, Medlab has been heavily ramping its cannabis research.
In fact, Medlab recently became the very first company in Australia to receive approval to start clinical trials with cannabis.
Its cannabis research efforts are focused on developing cannabis-based bio therapies as an alternative to opioids for cancer patients suffering from pain and nausea from chemotherapy.
This is a massive market that could be worth billions of dollars every year for a company that develops a therapy that relieves pain and is less addictive than opioids.
Let's take a look at the events leading up to this groundbreaking achievement.
Medlab Signed an Import Contract with Aphria in 2016
In order to conduct its clinical cannabis research, Medlab needed and needs a low-cost, reliable source of cannabis.
Medlab does not have the interest in growing its own stuff. Not only is this time consuming, its also expensive.
In April of 2016 Medlab struck a deal with Aphria Inc. (CDNX:APH), a Canadian-based licensed producer of medical cannabis, to supply cannabis for its research.
Under the terms of the deal, Aphria grows and prepares high yield cannabis for Medlab in Canada and Medlab finishes the manufacturing process at a licensed facility in Australia.
After being sourced, Medlab was quick to develop two cannabis-based therapies to relieve pain in cancer patients.
1. Nanabis is a proprietary combination of cannabidiol (CBD) and tetrahydrocannabinol (THC) being developed for advanced stage cancer patients with intractable pain.
2. Nanabidial consists of cannabidiol extracted from cannabis and intended to treat chemotherapy induced nausea and vomiting, with a secondary goal of treating patients suffering seizures. Nanabidial will be administered to patients with a mouth spray, allowing for a rapid release and absorption.
Medlab Just Began the First Ever Clinical Trials for its Cannabis Therapies
On June 19 Medlab announced it had obtained ethics approval (government approval) allowing them to proceed with human trials for these two therapies.
If these clinical trials go well, the goal is to make these therapies available to general practitioners through a prescription. That would potentially provide tens of thousands of Australians access to a drug that both consumers and medical professionals around the world have been eagerly looking forward to as an effective and less addicting alternative to opioids.
I am going to be following Medlab closely and looking for updates on the progress of these clinical trials.
If we see some good news on the trials, I would expect share to rip higher.
I will be sure to keep everyone updated on any important developments.
Medlab is up 271% Since Going Public in July of 2015
Medlab's progress in cannabis has not gone unnoticed by the Street.
Shares are up 271% since going public in July of 2015. Take a look at the impressive gains below.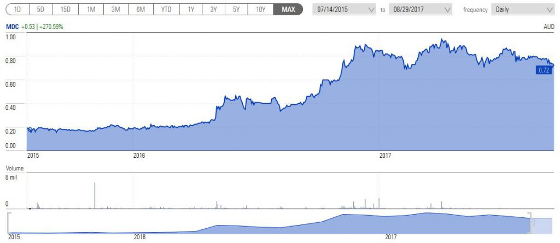 I really like this chart formation. More specifically, its called a bull flag " a formation that frequently leads to an upside breakout. A bull flag happens when shares rally higher and then trade sideways in a right range.
I am looking for shares to eventually advance back to the all-time high of $0.94, and breakout into a new all-time high.
The Big Picture
Medlab is one of the more interesting cannabis stocks I've seen lately. There are many things to like about the company, including its permits, cannabis bio therapies and clinical trials.
Medlab only has a market cap of $120 million. If its cannabis therapies receive commercial approval, I see major upside ahead.
Enjoy,
Disclosure: The information contained in this post is for informational and educational purposes only. The trading ideas and stock selections represented on the Cannabis Stock Trades website are not tailored to your individual investment needs. Readers and members are advised to consult with their financial advisor before entering into any trade. Cannabis stocks carry a certain level of risk and we accept no responsibility for any potential losses. All trades, patterns, charts, systems, etc. discussed are for illustrative purposes only and not to be construed as specific advisory recommendations. All ideas and material presented are entirely those of the author and do not necessarily reflect those of the publisher.