Analysis originally distributed on December 13, 2017 By: Michael Vodicka of Cannabis Stock Trades
Cannabis stocks have a huge event directly on the horizon. In fact, it's the most important event of the last 12 months and I expect it to send a certain group of cannabis stocks soaring.
On January 1 California will become the latest - and largest US state - to legalize recreational cannabis.
This is easily the most important event in the cannabis sector in the last 12 months. And I expect it to be a huge catalyst for cannabis stocks for two reasons.
1. Billions In New Sales:
California is already the largest cannabis market in the world - by a long shot. Its legal and illegal cannabis market did around $8 billion in sales in 2016 - with 75% of that from illegal sales. Recreational is expected to quickly chip into illegal sales and grow into a $4 billion annual market within a few years, from basically $0 today. That is a potential revenue and profit windfall for cannabis companies ready to capitalize. I expect this to be a strong tailwind for US cannabis stocks in general and particularly ones operating in California's high -growth market.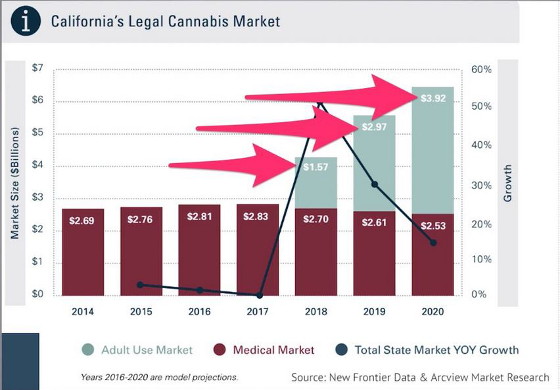 2. California Rec Goes Viral:
I expect this story to go viral in late December and early January. I am expecting to see major press coverage right around the New Year all across digital and print. All that attention is going to be great for cannabis stocks. I expect millions of people to suddenly realize, "investing in cannabis stocks makes a lot of sense!" If that happens, it would trigger billions of new capital flowing into US cannabis stocks. That would be very good for current shareholders operating ahead of the curve.
These are the two reasons I am bullish on US cannabis stocks right now.
Even better - this is the perfect time to invest.
This is the perfect time to be looking at US cannabis stocks.
While Canadian and Australian cannabis stocks have been burning up the chart in 2017, US cannabis stocks have struggled.
The US cannabis index is down 16.5% in 2017. Take a look below.

US Cannabis stocks have been struggling with legal uncertainty - medical and recreational cannabis are both still illegal at the federal level.
However - that weakness actually makes this a great time look at US cannabis stocks.
Not only are they trading at a sharp discount to Canadian and Australian cannabis stocks that recently jumped into a new all-time high - US cannabis stocks have a big-time catalyst directly on the horizon - California.
That's why US cannabis stocks have already started to rebound, which you can also see in the chart above.
This looks like a long-term bottom to me and the beginning of a new bull market in US cannabis stocks.
All being triggered by California.
Today I want to share six US cannabis stocks that I believe will benefit when rec goes legal in California.
Terra Tech (TRTC) is a California based cannabis company. Terra Tech owns a line of dispensaries in California and Nevada under the brand name Blum.
Kush Bottles (KSHB) is headquartered in California and sells packaging products to the US cannabis industry.
Grow Generation (GRWG) operates more than a dozen retail stores in Colorado and California that sell hydroponic ad organic gardening supplies to cannabis growers.
Solistek (SLTK) sells specialty lighting equipment to the cannabis industry and is headquartered in California.
Innovative Property Resources (IIPR) leases cannabis greenhouses to cannabis companies looking to ramp production. IIPR is headquartered in San Diego, CA.
Americann (ACAN) is shooting to become one of the largest cannabis growers on the East Coast with its ambitious plans to build a 1 million square foot cannabis greenhouse.
As you can see this group of stocks has a lot of business happening in California. I expect legalization to be very good for business. And that's creating a great investment opportunity. Buy shares now, look for the story to go viral and hold throughout 2018 as more good news hits the wire.
Enjoy,
The information contained in this post is for informational and educational purposes only. The trading ideas and stock selections represented on the Cannabis Stock Trades website are not tailored to your individual investment needs. Readers and members are advised to consult with their financial advisor before entering into any trade. Cannabis stocks carry a certain level of risk and we accept no responsibility for any potential losses. All trades, patterns, charts, systems, etc. discussed are for illustrative purposes only and not to be construed as specific advisory recommendations. All ideas and material presented are entirely those of the author and do not necessarily reflect those of the publisher.