Analysis originally distributed on December 13, 2017 By: Michael Vodicka of Cannabis Stock Trades
Cannabis stocks have a huge event directly on the horizon. In fact, it's the most important event of the last 12 months and I expect it to send a certain group of cannabis stocks soaring.
On January 1 California will become the latest - and largest US state - to legalize recreational cannabis.
This is easily the most important event in the cannabis sector in the last 12 months. And I expect it to be a huge catalyst for cannabis stocks for two reasons.
1. Billions In New Sales:
California is already the largest cannabis market in the world - by a long shot. Its legal and illegal cannabis market did around $8 billion in sales in 2016 - with 75% of that from illegal sales. Recreational is expected to quickly chip into illegal sales and grow into a $4 billion annual market within a few years, from basically $0 today. That is a potential revenue and profit windfall for cannabis companies ready to capitalize. I expect this to be a strong tailwind for US cannabis stocks in general and particularly ones operating in California's high -growth market.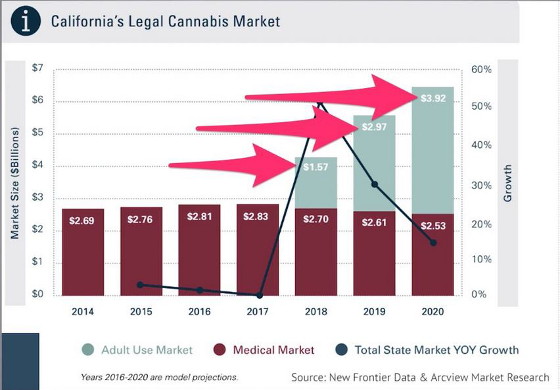 Continue reading "6 Cannabis Stocks Set to Surge from California's Rec Market" →