Hello traders everywhere. One week after we saw the stock market make gains we've retreated into negative territory. All three indexes are posting weekly losses and continuing to be bound in a sideways trading range. This weeks weakness is due to a rally in crude oil prices, a pickup in government bond yields as inflation rises and geo-political uneasiness around the globe.
The 10-Year Treasury yield hit a fresh seven-year high settling on Tuesday at 3.082%, compared with 2.995% Monday, marking its biggest one-day advance since March 2017. It will end the week above the 3% level at 3.069%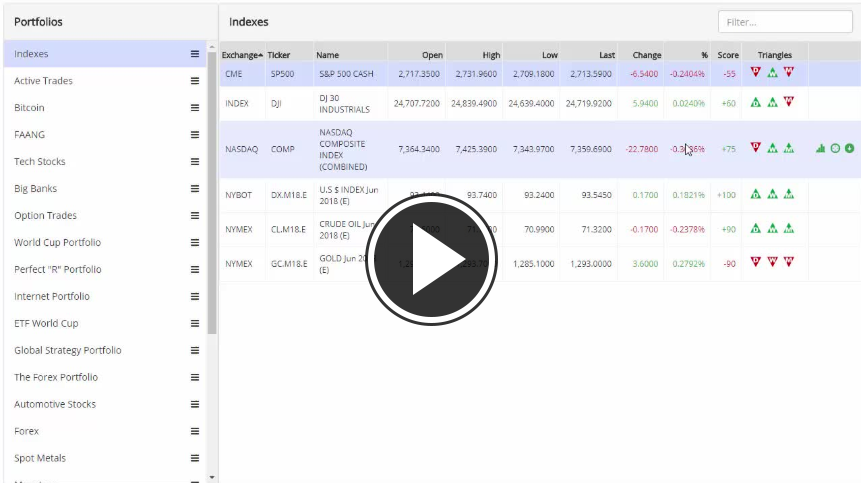 The U.S. Dollar continues to gain strength with a gain of +1.21% on the week. This weeks gain erases last weeks small loss as the dollar looks to heading higher. With green Trade Triangles on the board keep your eye on the $91.28, a move below that level will trigger a red weekly Trade Triangle indicating a move to a sidelines position.
Crude oil has cooled off as the week comes to an end with a small loss on the day, but overall it's posting a +1.15% gain on the week making three weeks in a row that oil has posted gains. Oil is currently in a long position with three green Trade Triangles, but keep an eye on the $70.66 level, if crude moves below that it will trigger a red daily TT signaling an exit from the long position.
Gold continues to come under pressure from the strengthening dollar and rising interest rates and is suffering its biggest loss in six weeks standing at -2.26%. Gold is currently in a short position with red Trade Triangles across the board. The level to watch is the $1296.40, a move above that level will trigger a green daily Trade Triangle indicating a move to sidelines.
Bitcoin continued to head lower this week posting a -3.9% loss which comes on the heels of last weeks -13% loss. This weeks loss has pushed bitcoin back into negative territory for the month, and it looks like the "bitcoin bears" are in the driver's seat. If it breaks the $8,000 level look for bitcoin to test the $7,800 level which is close to the 61.8% Fibonacci Retracement. If that were to happen, you could see bitcoin head to $7000.
Key Levels To Watch Next Week:

S&P 500 (CME:SP500): 2,594.62
Dow (INDEX:DJI): 23,531.31
NASDAQ (NASDAQ:COMP): 6,991.14
Gold (NYMEX:GC.M18.E): 1,296.40
Crude Oil (NYMEX:CL.M18.E): 70.66
U.S. Dollar (NYBOT:DX.M18.E): 91.28
Bitcoin (CME:BRTI): 9,925.55
Every Success,
Jeremy Lutz
INO.com and MarketClub.com