Analysis originally distributed on Juney 13, 2018 By: Michael Vodicka of Cannabis Stock Trades
Blockbuster drugs are the holy grail of the pharmaceutical industry.
When annual sales of a hot new drug break the $1 billion mark, investors are usually rewarded with big gains.
This is what began happening in 2012 with Gilead Sciences Inc. (GILD).
In 2013, the FDA approved Gilead's hepatitis C drug Sovaldi.
In 2014, Gilead scored an FDA approval for another Hep C drug, Harvoni.
Both drugs went on to quickly hit blockbuster status – sending shares of Gilead soaring – jumping more than 200% in the next two years.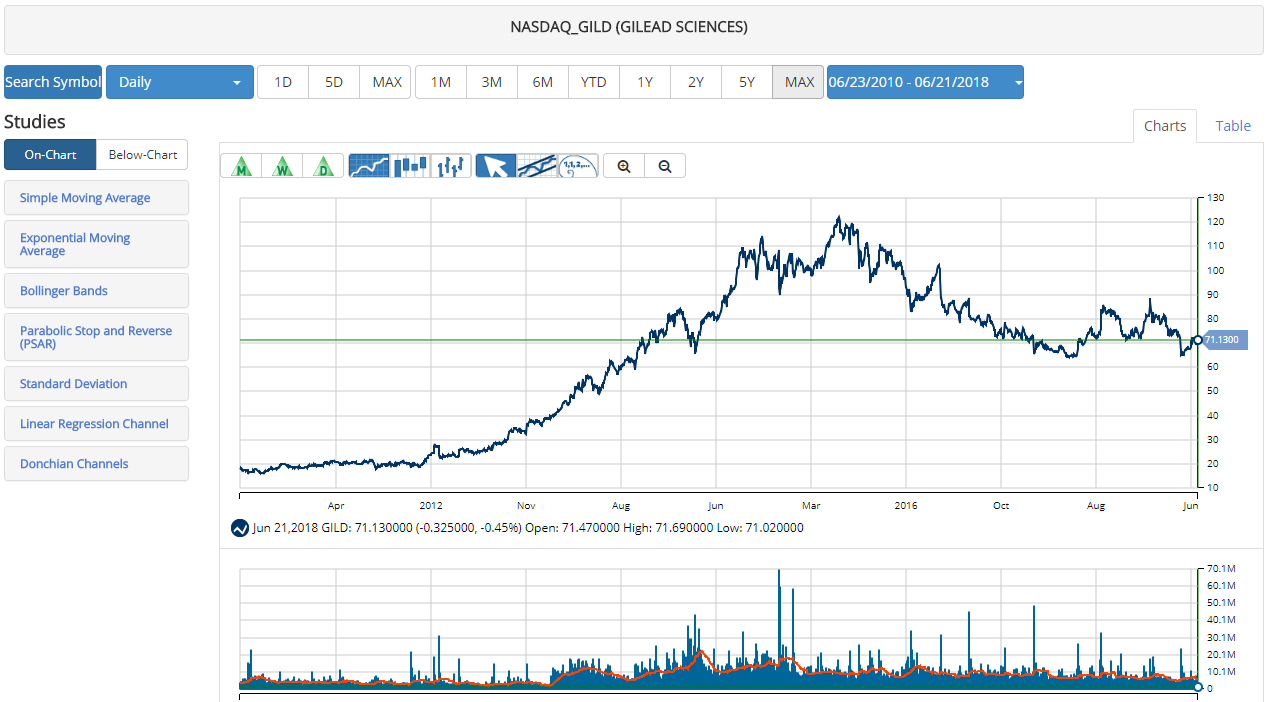 Today, the young cannabis industry is in hot pursuit of its first-ever cannabis blockbuster – and it looks like a winner could be crowned on June 27.
GW Pharmaceutical (GWPH) is a UK-based cannabis biotech. Shares are listed on the London Stock Exchange but also offered to U.S. investors as American Depository Receipts (ADRs) through the U.S. based NASDAQ.
GW is one of the largest cannabis companies in the world with a market value of $4.4 billion.
GW is in hot pursuit of the world's first ever cannabis blockbuster – a drug that generates more than $1 billion in annual sales.
The drug in question is Epidiolex, designed to treat a rare form of epilepsy in children.
According to the Epilepsy Foundation, one-third of Americans with epilepsy haven't found a remedy to control their seizures.
That comes out to about one million people. This represents a significant opportunity for new drugs that can fill the gap.
Right now Epidiolex is leading the pack.
The FDA Just Announced Great News for GW and Epidiolex
Epidiolex has been undergoing rigorous clinical testing for the last two years.
That research is starting to pay off.
On April 19, GW jumped 13% after the FDA announced that an advisory panel had unanimously recommended approving the drug.
Here are some more details from Bloomberg.
"On Thursday, a panel of outside advisers to the Food and Drug Administration unanimously voted that the drug's benefits outweigh its risk in treating two rare forms of childhood epilepsy. The 13-0 vote is a crucial sign-off before the agency makes an official ruling by a June 27 deadline.

The treatment's maker, U.K. company GW Pharmaceuticals Plc, provided "substantial evidence" of the drug's effectiveness, FDA staff said in a report released Tuesday. The medication would treat seizures associated with two rare forms of epilepsy that typically affect children, according to the report. Although the medication appears to have an increased risk of liver injury, it could be managed, the report said.
The risk-benefit profile established by the data in the application appears to support approval of cannabidiol," FDA staff wrote."
Drug Made From Cannabis Plant Gets Backing From FDA Staff
This news from the FDA is great news for GW and it hints at more good news to come.
Looking forward, the FDA is expected to announce an official ruling on Epidiolex on June 27.
In the short run, an approval could give GW shares a big jolt on the chart.
In the long run, if an approval comes through, it sets the stage for Epidiolex to hit the US market in the second half of 2018.
GW Shares are up Ahead of the Report
GW has been rallying ahead of the FDA news. Shares are up 50% in the last three months recently hitting a new 52-week high.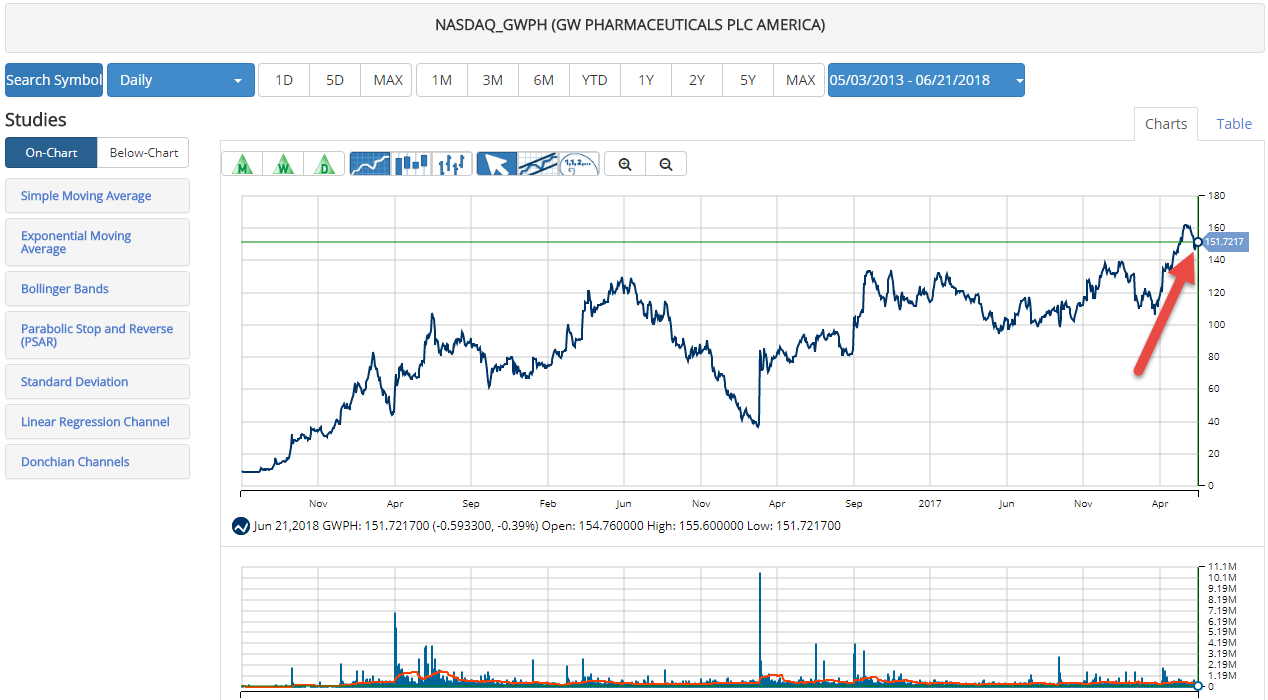 Wall Street is Bullish on GW – Median Price Target of $170
Wall Street is bullish on GW. The average analyst price target is $170 – an 8% increase from GW's recent close.
The high price target is $209.
GW Also Makes a Great Buyout Target for Big Pharma
GW also looks like a great buyout candidate for a big pharma company. Big pharma needs new drugs for its pipelines, is flush with cash, and GW would also be a quick pathway into the high-growth cannabis market.
Be on the lookout for buyout rumors or news. Both would be very good for shares of GW.
Risks to Consider
Although unlikely to be rejected, GW still needs the FDA to deliver a final approval on Epidiolex.
The Big Picture
GW is one of the most promising cannabis biotechs. Its leading drug candidate Epidiolex could be the first ever cannabis blockbuster. The FDA is set to deliver a final ruling on Epidiolex on June 27. Good news could send shares soaring and set the stage for commercialization in the second half of 2018.
Enjoy,
The information contained in this post is for informational and educational purposes only. The trading ideas and stock selections represented on the Cannabis Stock Trades website are not tailored to your individual investment needs. Readers and members are advised to consult with their financial advisor before entering into any trade. Cannabis stocks carry a certain level of risk and we accept no responsibility for any potential losses. All trades, patterns, charts, systems, etc. discussed are for illustrative purposes only and not to be construed as specific advisory recommendations. All ideas and material presented are entirely those of the author and do not necessarily reflect those of the publisher.