After the close today, The Walt Disney Company (NYSE:DIS) announces its earnings for the fourth quarter. Analysts are expecting Disney to make $1.45 a share on revenues of 14.7 billion. But here's the rub, ESPN which produces 45% of Disney's revenues, lost 3 million subscribers last year and is now a potential Achilles' heel for Disney.
Here's how I'm looking at Disney:
The Trade Triangles are all red and negative indicating lower prices. Technically the chart for Disney looks dismal at best. Based on those two elements, I expect Disney to either come in on analysts estimates or to miss their earnings. I do not expect to see a surprise on the upside here. Based on that analysis you would want to be short (if you're not already based on the Trade Triangles) Disney before the close today.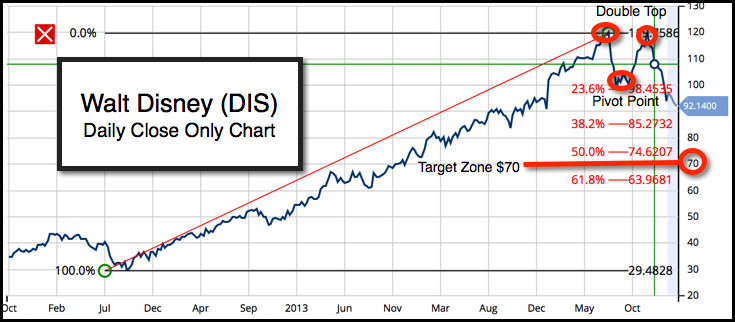 Another stock that is set to report fourth-quarter 2015 results after the close today is Akamai Technologies Inc. (NASDAQ:AKAM). Analysts estimate that this stock should have positive earnings of around $0.50 a share. I would be surprised given the overall negative tone of tech stocks that even if Akamai reports good earnings, it won't go far on the upside. Technically speaking this stock according to the Trade Triangles is in a major downtrend, it has however completed a 61.8% Fibonacci retracement and is within striking distance of a long-term support line which comes in around $37 a share. I would be more inclined to go with the trend and stay short this market. The original Trade Triangle sell signal for this stock came on 7/6/15 at $69.13. Akamai closed on Monday evening at $40.98. Continue reading "Can Star Wars Save Disney Or Will ESPN Sink The Ship?" →