The price action last week and today in the stock of Apple was reflecting the perception that Apple's new offerings were not up to par and offered no major breakout technology. The press and the general markets were generally negative on Apple's latest offerings. The new iPhone 5S and 5C have been largely pooh-poohed in the media.
I think the market has overreacted in the sense that no company, not even Apple, can keep coming out with groundbreaking technology with every press event they host. I believe the market has overlooked the fact that these are very strong offerings and that Apple has a loyalty base like no other company on the planet, myself included.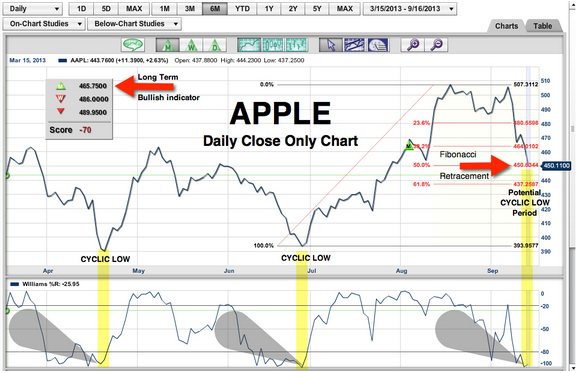 The security fingerprint technology that Apple introduced is quite remarkable, and lends itself to so many other applications. Security is going to become more and more important to even the average smartphone or tablet user in the future. Apple's introduction of this technology is going to be very important in the corporate and enterprise world and may send a crippling blow to Blackberry. Fingerprint security could be used in so many yet-to-be-discovered applications for financial transactions and online commerce. It has an enormous future, but the market just hasn't recognized it yet.
As a reader of this blog, you know I look at the market on a technical basis and one of my technical indicators is telling me that Apple may be close to a turning point. The Williams%R indicator, shown in the form of yellow lines on today's chart, indicates the cyclical pattern of Apple and shows that this market is very oversold. Apple has also pulled back to an area of previous long-term resistance. This resistance area should now act as support.
The stock of Apple has also pulled back to our major trend indicator, which remains bullish. This is not so unusual to have a retest of the long-term Trade Triangle signal, in Apple's case at $465.75. The current pullback in Apple is approximately a 50% retracement and is a Fibonacci support area.
This week I expect Apple to begin to find support around current levels, give or take $5 to $10. I believe that Apple is close to an important cyclic low period and the roll out on Wednesday of Apple's IOS7 system could be the catalyst to once again turn Apple to the upside.
What do you think?
Feel free to leave a comment.
Adam Hewison
President, INO.com
Co-Creator, MarketClub