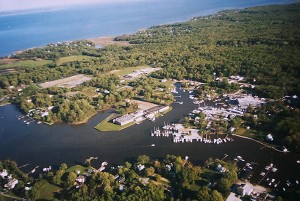 We are so lucky to work in such a beautiful location. One side of our office building overlooks a thriving marina with fisherman constantly going in and out of port, while the other side of our building has the most beautiful view of the Chesapeake Bay Bridge. Seeing river otters, blue heron and bald eagles are not a rare occurrence here.
Our building also houses the office of the West/Rhode Riverkeeper. This non-profit organization is a licensed member of Waterkeeper Alliance, an international movement of on-the-water advocates who patrol and protect 100,000 miles of rivers, streams and coastlines in North and South America, Australia, Europe, Asia and Africa. The Riverkeeper's goal is to enforce environmental law, promote restoration and to advocate for better environmental policies.
Our beautiful office view would not be as beautiful without the hard work of organizations like the West/Rhode Riverkeeper!
For our May INO Cares campaign, INO.com sponsored a riding team for the West/Rhode Riverkeeper's first annual "Ride For The Rivers" on May 10th, 2014. Proceeds for this event went to help the West/Rhode Riverkeeper in its efforts to keep the local waterways fishable, swimmable and clean.
This awesome event took riders through the rolling countryside of two of Maryland's southern counties and followed up with a post ride party!
Adam Hewison, INO.com CEO and President, is an avid biker, so this event was extra special for him. He got out there for the 60-miler and had an absolute blast! Our sponsored INO riding team consistent of 25 riders from the Annapolis area. We hope they all had a blast and will continue to support this awesome cause year after year!
Enjoy the photo slideshow of the "Ride For The Rivers"!