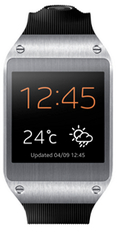 In today's poll we ask, "Would you wear a computer?"
On Thursday, Samsung announced its new Galaxy Gear smartwatch which is expected to land in the US in early October. It also seems like Google, has been pushing "Google Glass" forever. Sony, Samsung and others are all betting in the smartwatch space and it has everyone asking, "When will Apple announce its own smartwatch?" That could come as early as next week, as Apple has a special event planned on September 10th to announce its new iPhone.
So today we ask, "Would you wear a computer?"
Your vote, comment or feedback is always welcome on the blog. Looks like an interesting future in computing.

Loading ...
Thanks for your vote and have a great day.