Hello traders and MarketClub members everywhere! Today, I will be looking at Tesla (NASDAQ:TSLA), who just announced their earnings and future growth prospects and Alibaba (NYSE:BABA), who just made new highs yesterday, since going public in its recent IPO offering. I will also be delving into Amazon (NASDAQ:AMZN) and analyzing if the love affair is over.
Alibaba Group Holding Limited (NYSE:BABA)
Alibaba is an amazing company, started by Jack Ma not that long ago. Its recent IPO on the NYSE raised a record amount of funds for this company and made Jack Ma an overnight billionaire. So what does Alibaba actually do? This company acts and provides a platform to merchants to sell to their half a billion users that frequent their website. Alibaba's master plan is to be the biggest commerce website in the world. That leads me to another website that has similar plans.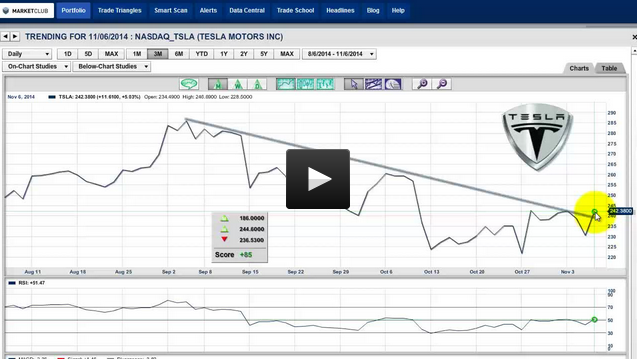 Amazon.com, Inc. (NASDAQ:AMZN)
Amazon, who is undoubtedly the king of online commerce here in the United States, continues to grow, but continues to lose money. Amazon continues to pour money into the development of several other businesses, including cloud and server hosting for companies. Amazon's greatest asset, in my opinion, is the amount of information they have on everyone who has ever purchased goods and services from their website. This is an invaluable resource for marketing, not just for Amazon, but for any company they choose to work with. Continue reading "Alibaba VS. Amazon - Which One You Should Buy" →