Hello MarketClub members and friends of MarketClub everywhere! Today, I have a brief market update on the general market and an in-depth analysis on gold.
2015 has not started off too well for the US equity markets, while the reverse seems to be true for the action in gold (FOREX:XAUUSDO). What's going on? Oil continues to slip, which most economists thought would be good for the economy, but it does not seem to be helping the market. This brings me to my next thought...
Do you know about the "January Barometer"? Since World War II, if the market closes down in January, the average price change was usually flat in the remaining 11 months. So while certain stocks may do very well overall if the market closes down this month, look for a less than stellar year.
As you can see, while stocks have been swooning, gold has actually been on the move to the upside. As I write this, gold is up almost 3% and we are only 6 days into January!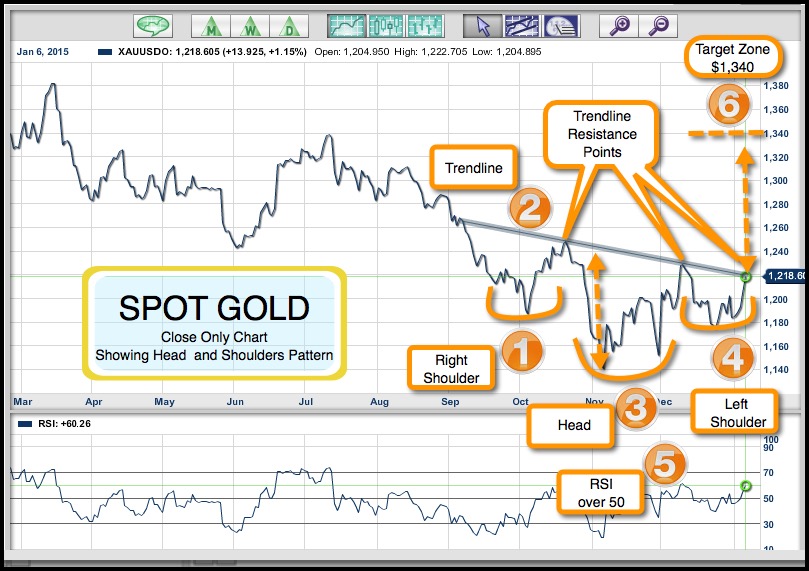 Take a look at the chart and you can see that gold has almost completed an important technical formation known as a "head and shoulders bottom", one of the most reliable formations in your technical arsenal.
A higher close today clearly breaks over the the all important "neckline" resistance level. Once over the "neckline," I can see gold moving based on the head-to-neckline measurement up to the $1,330 to $1,340 level.
Wishing you all the very best in 2015.
Every success with MarketClub,
Adam Hewison
President, INO.com
Co-Creator, MarketClub