Yesterday, I went to the Apple(NASDAQ:AAPL) store to ask them about the new iPhone 5S and to see if they had any in stock. I was told that they no longer sold the iPhone in the store and that I had to order one online. I was somewhat taken aback by this, but then it all sort of made sense to me when I thought about it.
I think the demand for the iPhone 5S, the gold edition in particular, has been off the charts and I think we're going to see a tremendous number of iPhone sales in the fourth quarter. Having checked out the Apple store, I decided to go to Best Buy to see what they had in the iPhone 5S market. It was pretty much the same story, you have to order online and you can pick it up at the store. This makes a lot of sense because Apple can then deliver what people want based on their online orders. This allows Apple to ramp up its production to meet demand.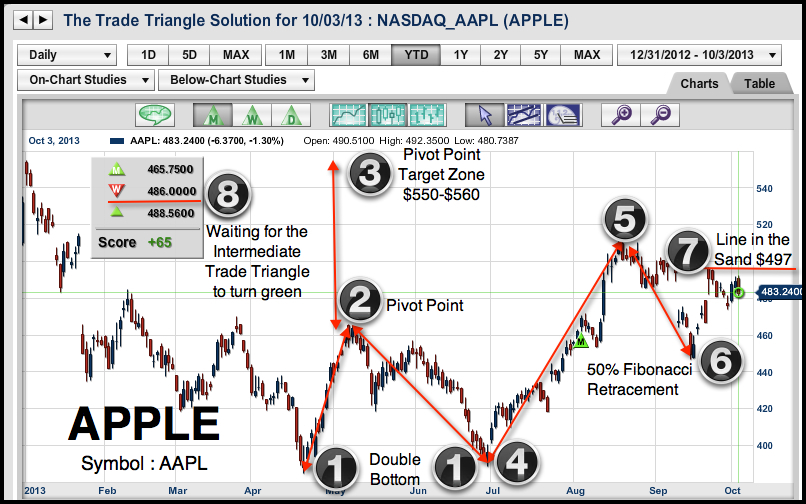 CHART LEGEND
1) Double Bottom
2) Pivot Point
3) Target Zone from Pivot Point
4-5) Measurement for Fibonacci Retracement
6) 50% Fibonacci Retracement
7) Line In The Sand - $497
8) Trade Triangles
The market action recently for Apple (NASDAQ:AAPL) has been choppy, which I believe is a good thing, as Apple sets itself up to move higher. I have been looking for Apple to move to the $550-$560 area or higher. That target zone is still in effect. The battle lines are drawn and I know that if the market does not rally strongly today, the new trigger point for Apple next week is going to be the $497 level. Once over that level, this market could take off and move very quickly to higher levels.

Doubtless, you may have heard some of the problems that have been circulating in the press about the new iPad retina displays, and that they're going to be delayed coming to market. This is likely just a technical glitch that could have been caused by one supplier. I think that demand for the smaller 7in retina iPad is going to be very big both here and overseas.
Lastly, like thousands of loyal Apple fans, I still don't have an iPhone 5S Gold, but I want one. I guess I'm going to have to break down and order online and wait for it to be delivered to the local Apple store. One thing I am really enjoying a great deal is the new iOS7 operating system. Apple has done a masterful job of changing its old and aging operating system into one that really is cutting-edge. The fact that it can run on the new 64-bit A7 chip and the old 32-bit chip is a testimonial to Apple's technical expertise.
As you can see on the chart, I have drawn a line in the sand for Apple and when this line is crossed it will turn our intermediate weekly Trade Triangle green, indicating a resumption of Apple's strong and longer-term uptrend.
If you have any comments or thoughts on Apple, I would love to hear from you!
Have a great weekend everyone and let's watch Apple closely next week, it could be a good one.
All the best,
Adam Hewison
President, INO.com
Co-Creator, MarketClub