I was scanning through the Trade Triangles list this morning to see what was new and exciting when I discovered that Under Armour Inc. (NYSE:UA) had flashed a weekly buy signal to the upside.
Business Profile
Under Armour, Inc. (NYSE:UA), together with its subsidiaries, develops, markets, and distributes branded performance apparel, footwear, and accessories for men, women, and youth worldwide.
What I was looking for in this scan was weekly Trade Triangles that matched their monthly Trade Triangles. I wanted both the weekly and monthly Trade Triangles in the same direction and color. I have to admit, there were not many that match this criteria.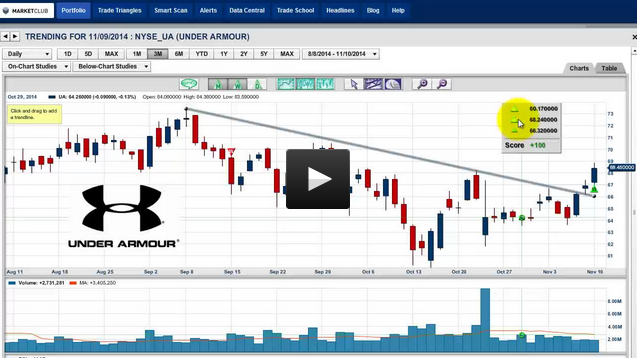 I found two more, but they were on the downside. These two stocks are in strong downtrends and look to be headed to the basement. Continue reading "Under Armour, Inc. (NYSE:UA) Gives A Compression Buy" →