Hello traders and MarketClub members everywhere! Markets tend to anticipate good and bad news, including earnings reports. Today, I am going to share with you positions you would have using our Trade Triangle technology in three stocks that are reporting their earnings after the close of trading today.
The three stocks that are expected to report earnings after the close are Cisco Systems, Inc. (NASDAQ:CSCO), J.C. Penney Company, Inc. (NYSE:JCP) and NetApp, Inc. (NASDAQ:NTAP). All three stocks meet my criteria, as they trade over 2 million shares a day, which in turn provides plenty of liquidity for investors.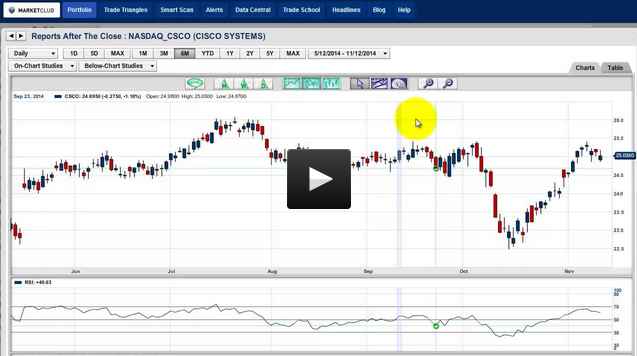 In today's video, I will be looking at these three stocks and showing you exactly how I am positioned in each stock. I will also be analyzing two other markets that have been in the news, gold (FOREX:XAUUSDO) and crude oil (NYMEX:CL.Z14.E). Lastly, I will be taking a look at the major indices to see how long this never-ending bull market can last.
As always, we welcome your feedback and your thoughts on the markets. Be sure to leave your comments below this post and share with us the type of videos you would like to see.
Every success with MarketClub,
Adam Hewison
President, INO.com
Co-Creator, MarketClub